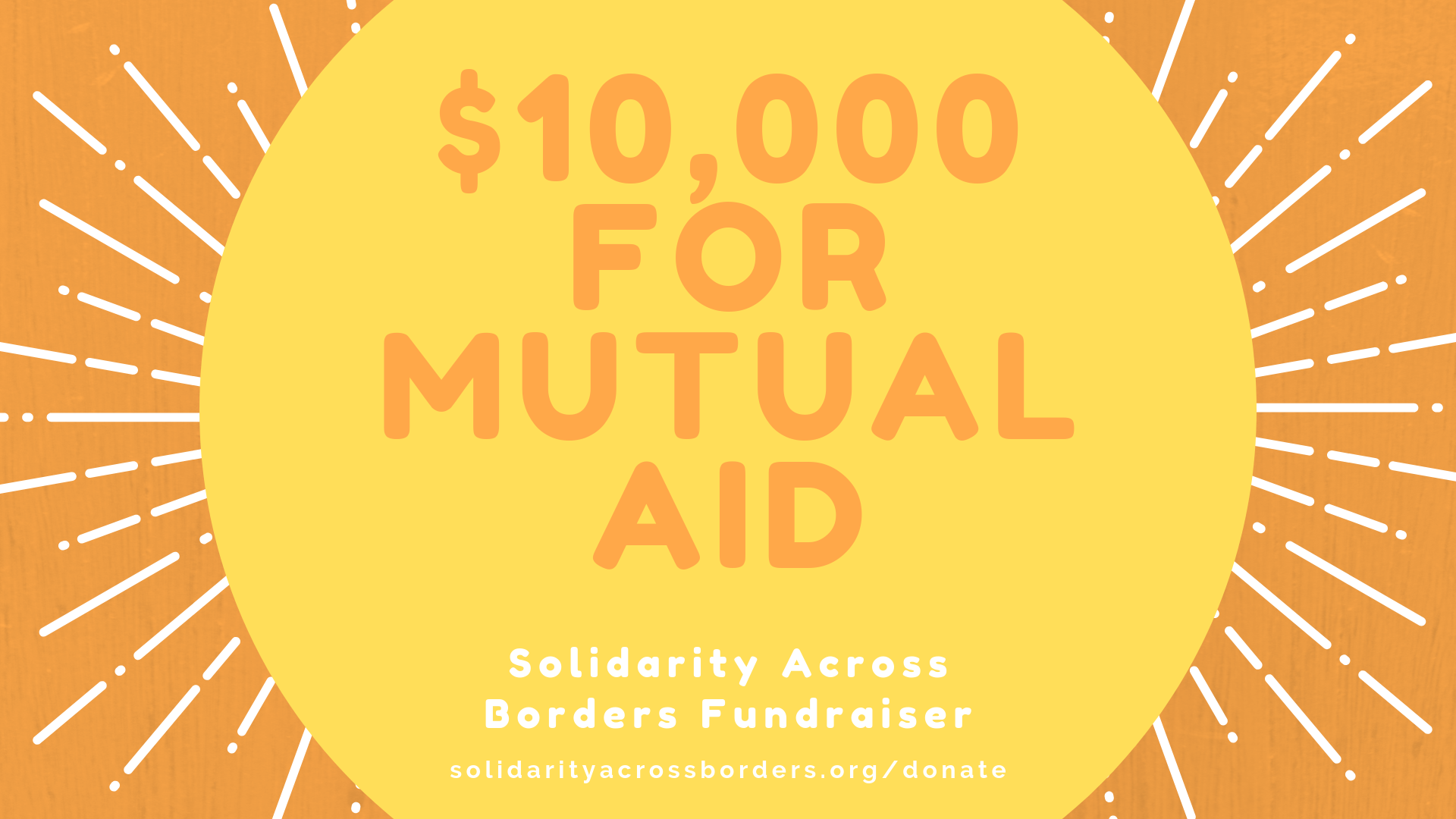 Solidarity Across Borders issues a call for support for its longtime active members who are facing financial challenges as they fight for status.
We need your support! As you know, Solidarity Across Borders is a network of migrants and allies who join together in solidarity to fight deportations, detentions, and double punishment of migrants (loss of status after a criminal sentence). We demand status for all, for we believe that everyone is equal in worth and dignity, and should therefore have free and safe* access to housing, healthcare, education, daycare, and other social services – regardless of their immigration status.
Behind and in the centre of these efforts are our members who live with precarious immigration status. Although they contribute – through, for example, community involvement, work, and taxes – they are almost entirely excluded from all social benefits, such as healthcare, public daycare, EI, workplace accident protection, welfare and subsidized housing. And without a work permit, access to decent or stable work is limited, which makes the legal channels toward gaining a status unaffordable.
We are writing to invite you to financially support those of our members who, directly affected by an unjust immigration system, are facing acute challenges today as they struggle to make ends meet. One member, for example, has worked for decades in precarious and poorly paid jobs like cleaning. With deteriorating health (due to age but also lack of access to basic healthcare), she is no longer able to sustain the physical demands of her former work. After several months of not having enough money to pay for rent, she is now facing eviction with nowhere to go. Another member, after finally obtaining permanent residency following years of living without status, is now in limbo as he waits over three months for the immigration system to issue him his new documents. He's been unable to work and also fears eviction on a daily basis (as he now worries that continuing his previous undeclared work could put his current status in jeopardy). And yet another member who is a single father is currently struggling to pay for an operation for his sick son, while working for less than minimum wage. Many other members deal with the transition of losing temporary status as their refugee claims are rejected by a system that is arbitrary and racist.
In the midst of heightened xenophobic public discourse and policies that continue to fortify borders, our request is both urgent and rooted in a long-term vision: creating relationships of mutual aid and solidarity instead of capitalist exploitation and racist exclusion. Supporting our members with precarious immigration status is a concrete way to support their political work. To that end, we'd like to invite those who are in a position to do so to become monthly donors to Solidarity Across Borders.
To become a monthly donor:
PAYPAL: Click on the "Make a monthly donation" paypal link on the Solidarity Across Borders website, then select the amount you want to give per month, and DON'T FORGET to indicate that it is for the "direct support".
AUTOMATIC MONTHLY WITHDRAWALS: Please contact your bank to authorize automatic withdrawals to Desjardins, Solidarité sans frontières, our account number is: 92276-815-564-237-6.  Send us an email to let us know that you have made a monthly donation and that funds should go towards direct support.
Even if you choose not to become a monthly donor, a one-time donation still helps us reach our fundraising goal and is a useful contribution towards building a Solidarity City!
To donate:
E-TRANSFER: Send an e-transfer to solidaritesansfrontieres@gmail.com
CHEQUE made out to "Solidarité sans frontières" and mailed to:
Solidarity Across Borders ℅ QPIRG Concordia
2100 Rue Guy, suite #205, Montreal, QC H3H 2M8
ONLINE/PAYPAL: solidarityacrossborders.org/donate
CASH:
Drop it off at
Solidarity Across Borders c / o QPIRG Concordia
2100 Rue Guy, suite #205
Montreal, QC H3H 2M8
* Safe: Border agents have raided workplaces and even hospital emergency rooms to arrest people they want to deport; children have been threatened by school staff that they would be reported to immigration; police have approached women's shelters seeking women without status.