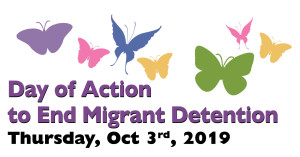 … part of a multi-city day of action against immigration detention in Canada (full list here)
Join us on October 3rd for a family-friendly, festive noise demonstration in Laval against the new prison for migrants!
Starting outside CBSA offices, a caravan will be traveling around Montreal and stopping in different neighbourhoods (Saint-Henri, Cote des Neiges, Parc Ex, and Montreal North) all afternoon, building toward a noise demonstration in Laval at 4:30pm.
Bring pots, pans, noisemakers, and/or instruments! Bring your signs, banners and poetry against borders and prisons; your love and your rage! There will be food and music.
You can join us:
1pm, Outside CBSA offices, 1010 St. Antoine (metro Bonventure) to join the caravan.
4pm, Metro Henri Bourassa to take the bus to Laval.
4:30pm, Laval Detention Centre, 200 Montée Saint-François, for the noise-demo.
NOTE: If you are joining the caravan or coming on the bus to Laval, you have to sign up here before noon on October 2nd to reserve a seat and receive final details.
Accessibility & Safety: While the caravan will be moving across the city, the mini-rallies in each neighbourhood will be stationary. We will have water and food for everyone throughout the day. The organizers are trying to make the demonstration in Laval safe for everyone to participate, especially those most affected by Canada's border regime. Also, you may have heard that SAB is under a legal injunction – however, this injunction only applies to Tisseur's property in Val David (a town north of Montreal), not Montreal or Laval. More here.
Questions? Write us at solidaritesansfrontieres@gmail.com or call us at 514 809 0773.
For more about immigration detention in Canada and the new migrant prison, click here.
For more about the companies involved in constructing the new Laval migrant prison, click here.