The fed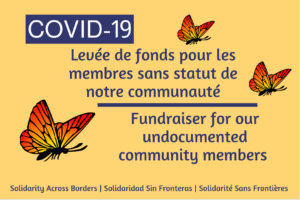 eral and Quebec governments recently announced temporary compensation measures and both have neglected to address whether immigrants with no immigration status will be able to access them.  This reckless exclusion poses a grave risk to our non-status community members, their families, friends, neighbours and co-workers. We are calling on our Montreal community to donate to this fundraiser as a way to directly support our non-status community members.
Our current system discriminates against migrants based on their immigration status, but the virus does not. If the recommended measures of physical distancing and self-isolation are to be effective, they must be accessible to all. This discrimination is untenable and cruel, as it puts an undue burden on the most vulnerable members of our community to contribute to the health and well-being of us all. Asking someone without status to make a choice between no longer being able to pay for their basic necessities or continuing to work is devastatingly unfair. And ultimately, this system puts us all at risk.The health of undocumented and precarious workers is the health of everyone, our lives are interconnected.
None of us are untouched by the current crisis, but for those of us without immigration status, the risks are compounded. It's very difficult for workers who are living paycheque to paycheque, and even more so for non-status migrants who are often forced to work for less than minimum wage and without proper health and safety standards. The possibility of infection poses a risk to everyone in our community, and even more so for non-status migrants who do not have proper health coverage. The financial fallout may be long lasting, and even more so for non-status migrants who cannot access temporary compensation, employment insurance, or social assistance.
To address this, we are launching an urgent call for funds for undocumented members of our community who may need to self-isolate, or who are unable to work as a result of the economic fallout of the current crisis. To donate, please see the information below.
We are also calling on the government to make their temporary compensation measures accessible to non-status community members.
These social inequalities have existed before the outbreak of COVID 19, but the current reality shows us that we can wait no longer to address them. While we are calling for emergency fundraising from our own communities, and for the government to open it's criteria for temporary funding, we need a lasting solution to the injustice that gives rise to these problems. We need a comprehensive and inclusive regularization program for all non-status migrants. We need Status For All!
How to get support and what type of support this fund will offer
We hope this fund will help cover one-time urgent costs such as food and housing that might arise for an individual or family during the crisis. If you are a non-status migrant who needs support, please contact Solidarity Across Borders:
Email: solidaritesansfrontieres@gmail.com
Phone: 514-809-0773 (leave a message and someone will return your call)
How to donate
→ Gofundme: https://www.gofundme.com/f/levee-de-fonds-pour-nos-voisins-sans-statut

→ E-transfer: Send an e-transfer to solidaritesansfrontieres@gmail.com
→ Cheque made out to "Solidarité sans frontières" / cash that can be mailed to:
Solidarity Across Borders ℅ QPIRG Concordia
2100 Rue Guy, suite #205, Montreal, QC H3H 2M8
→  Online / By PayPal: solidarityacrossborders.org/donate