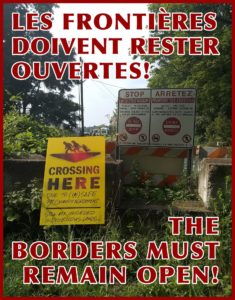 COMMUNIQUE
For immediate release
The Borders Must Remain Open! Refugees Welcome!
Montreal, March 21st, 2020 – The federal government yesterday announced the closure of the US-Canada border to asylum seekers at both regular and irregular crossing points. Taking this draconian measure during the global COVID-19 pandemic is dangerous from the standpoint of public health. Also, the decision further encourages growing xenophobia in a moment that calls for global solidarity.
"The government's decision to close the border to asylum seekers ignores the recommendations of the World Health Organization and isn't part of a sound pandemic management plan," said Dr. Nazila Bettache, of the Caring for Social Justice Collective. "By closing the border, asylum seekers will cross by other means that are less controlled. They won't have access to important information or proper safety measures, such as a 14 days quarantine. It is a public health imperative to keep the borders open to asylum seekers," she added.
Across the world, individuals and families leave their homes to escape from military conflict, political oppression, resource extraction and climate change. In fact, the Canadian state and Canadian companies are often directly implicated in the destruction of environments and livelihoods in asylum seekers' home countries. The Safe Third Country agreement already forced refugees to cross the border irregularly. Closing Roxham Road and other points of entry just means that people will try to cross in other, even more dangerous places.
"In these times of pandemic and global crisis, we must prioritize solidarity over xenophobia and repression. COVID-19 should not be used as a further justification to deny entry to migrants seeking a safe haven in Canada," said Noé Arteaga of Solidarity Across Borders. "We call for open borders, and full citizenship status for all individuals on Canadian territory: equal access to health care for all, full access to income and employment support measures for all workers, regardless of immigration status, safe and decent housing for migrants requiring isolation and quarantine, and an immediate and permanent end to detentions and deportations."
"No one choses to be a refugee," says Mohamed Barry of the Guinean Committee for Status for All. "The closing of the border is based on politics and not on science. Already we can see that this measure is being used to further tighten controls of people while allowing capital to flow unchecked. The only migrants the Canadian government wants are those who can be easily exploited and deported."
"Everyone has the right to migrate, the right to resist forced displacement, and the right to return to their homelands if they so choose. We demand full status for all migrants within the Canadian state, and mutual aid on a global scale, beyond colonial borders." said Arteaga.