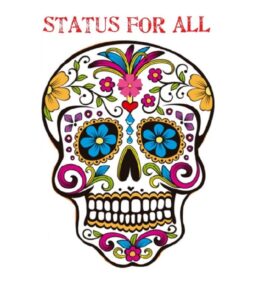 Social distancing and masks are mandatory.
Sunday, November 1 at 5:00pm
1400 boulevard René-Lévesque East (métro Beaudry)
Wear something red and bring candles to light
https://www.facebook.com/events/346779576575471
The Migrant Rights Network has declared November 1, Day of the Dead, the next pan-Canadian Day of Action to demand Status For All. The Day of the Dead is a Mexican festival to commemorate and honour the dead.
Solidarity Across Borders, a member of Migrant Rights Network, is organizing a rally on November 1st at 5:00pm outside Radio-Canada in Montreal to highlight and challenge our invisibility in the mainstream media. The rally will include a "die-in," an art action to show our  dead.
* We remember the thousands of migrants who have lost their lives crossing the border into the United States and into Canada, including Mavis Otuteye, as well as the thousands of migrants who have drowned in the Mediterranean trying to make it to Europe, including Alan Kurdi. Fleeing war, violence, climate destruction, extractivism and poverty, they are killed by the border system.
* We remember the migrant workers in Quebec, and the rest of Canada, who have died from COVID-19 because of unsafe and exploitative working conditions.
* We remember our dear friend Lourdes, who lived here in Montreal for years with no immigration status until her health was worn out, through exploitation – denied healthcare in Canada, she returned to her home country to die.
* We remember migrants and refugees who have died as a result of direct Canadian Border Services Agency (CBSA) violence: Bolante Idowu Alo and at least 14 other people since 2000.
* We remember Joyce Echaquan, who also died because of systemic, colonial racism. We remember the thousands of missing and murdered indigenous women across Canada.
We, the undocumented, demand permanent status in Canada. The right to live in dignity, without fear or humiliation, must be accessible to all, without exception. This is a cry from the heart, a cry of distress, we live every day. Our struggle calls upon the thousands of people who have fought for years to demand status for all. Thousands of us are living on Canadian soil, human beings with vulnerable families, parents and children, working tirelessly to cover expenses, contributing to the Canadian economy you are so proud of. Your wealth is built on the backs of these people, who don't even have the right to sick leave when they become ill. The COVID-19 pandemic has worsened our situation. The inaction of the government forces us to continue our collective struggle, noble and humane, against the humiliation and discrimination undocumented migrants suffer at this government's hands.
Most of the people called undocumented have already tried to regularize their status through individual appeals. For years, they have waited impatiently for a response, hoping to realize their dreams of a life without fear of deportation, without the fear and anxiety of a death row prisoner. Recently, Mamadou Konaté presented himself at 1010 Saint-Antoine, the office of the Canadian Border Services Agency (CBSA) and a place of horror for migrants, to try and find a solution to his situation. Instead, he was arrested and transferred to the Laval immigration detention centre to await deportation.
Former Canadian Supreme Court judge Louis Arbour has argued for the regularization of undocumented migrants, and we appreciate her support. We call all Canadian citizens to join their voices to hers. We call on Canadian celebrities – athletes, writers, artists and any other public figures – to support regularization for all.
We are more determined than ever, and we will not give up our struggle. On November 1st, we will bring our anger and our despair to the Radio-Canada building in Montreal, and make our voices heard.
Join us Sunday, November 1st and support our cause. We are counting on your presence to help us declare loud and clear: Status For All!  Unity is our strength.