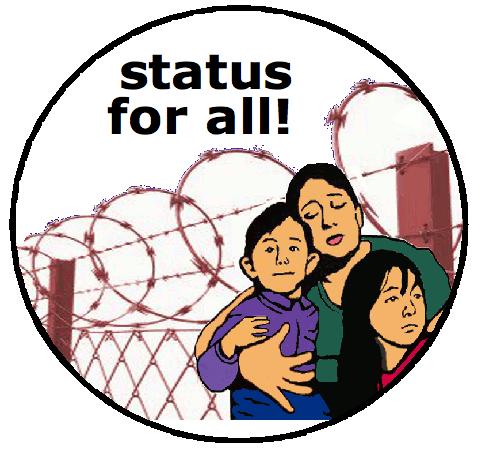 Wednesday, 4 March, 6:00pm
2149 Mackay St. (métro Guy-Concordia)*
*We regret that this location is not wheelchair accessible; it is necessary to climb a set of stairs to enter.
– childcare available
– translation available (English-French-Spanish)
– snacks will be served
– metro tickets are available as needed
– please get in touch about any other accessibility needs
Second organizing assembly to plan 2015 status for all mobilization, rooted in the main demands and campaigns of Solidarity Across Borders: opposition to deportations, detentions and double punishment; for Status For All and building a Solidarity City. (Read more about our demands & campaigns here: www.solidarityacrossborders.org)
For more than a decade, since 2002, the May-June period has been a time for Status For All-themed mobilizations in Montreal. In recent years, we've organized decentralized Anti-Deportation Days with different organizations contributing events over two weeks (June 2014), as well as a community-based Status For All mobilization, with marches starting in four different neighborhoods and converging downtown (May 2013).
We've sometimes mobilized around May Day, the international working class holiday rooted in immigrant worker struggles at the end of the 19th century, and often linked our spring mobilizations to anti-deportation struggles by individuals, families and communities. These are some models and inspirations that we want to consider again this year.
The coming April-June period includes many very relevant events and dates: the anti-austerity Printemps 2015; the start of a period when temporary foreign workers who've lived in Canada for four years and more could face removal (April 1); anti-capitalist May Day (May 1); and the deadline for Zimbabweans and Haitians affected by the lifting of moratoriums to apply to stay in Canada (June 1).
We welcome all members of the local community who would like to contribute to this effort, and agree with the Solidarity Across Borders demands, to participate in this assembly.
For your information, here are links from previous mobilizations:
-> Anti-Deportation Days (June 1-15, 2014): www.solidarityacrossborders.org/en/anti-deportation-days
-> Report-back: Status For All Demonstration (May 18, 2013): www.solidarityacrossborders.org/francais-compte-rendu-la-manifestation-un-statut-pour-toutes-et-tous-mises-a-jour-liens-photos-et-articles