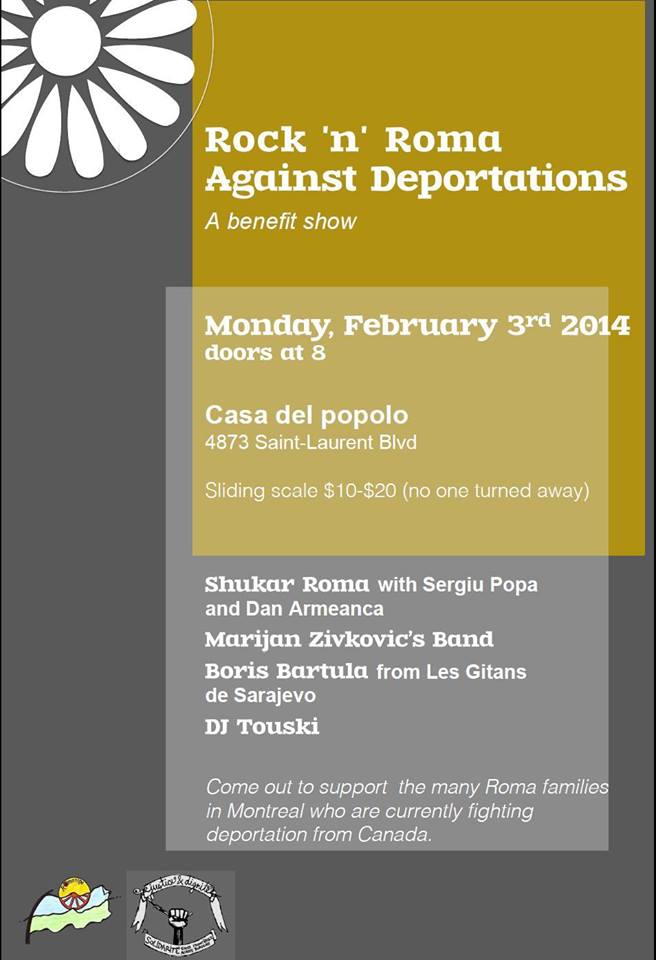 Monday, 3 February 2014, Doors at 8pm
Casa del popolo, 4873 Saint-Laurent Blvd
*buy your tickets in advance or at the door*
featuring:
Shukar Roma meaning 'superb Gypsy', is a new project with great musicians who met in Montreal: Sergiu Popa and Dan Armeanca. Sergiu, the younger of the two artists, is a virtuoso accordionist, born into a musical dynasty in his home country of Moldova. Living in Quebec since 2002, he has been busy absorbing a variety of musical influences through his many collaborations, and has received several prestigious awards. Dan Armeanca is recognized as one of the founders of the modern 'manele' movement, a very rhythmic style of Roma (Gypsy) music born in Romania in the 80's-90's that spread across Europe. His compositions have become standard for any Rom musician. He interprets his songs in a way that only a master 'Lautari' can. The chemistry between these two artists of different generations is truly 'shukar'! www.popmontreal.com/artists/shukar-roma/
Boris Bartula from Les Gitans de Sarajevo. Born in Sarajevo, Boris has a degree from Sarajevo's Academy of Classical Music and has taught music in Yugoslavia for many years. He is the lead singer, pianist and accordionist of the Gitans de Sarajevo. He is also the main composer and arranger of the group's original songs. www.lesgitansdesarajevo.com
Marijan Zivkovic's Band. A Roma band which has played traditional Roma music together for four years at numerous events in Croatia. Driven out by anti-Roma violence and discrimination in Europe, various members of the band have come together again to play in Montreal, as they wait for status.
DJ Touski is founder and resident DJ of the legendary Balkan Beat parties that set Montreal on fire at least once a month for more than two years. DJ Touski has participated in several cultural events including the Festival Pop Montreal, Coup de Coeur Francophone, and has played with some of the biggest names in European Balkan Beat scene (Mahala Rai Banda, Slavic Soul Party, Max Pashm, Dunkelbunt, Al Lindrum). www.balkangypsyparty.com/touski
++ Raffle for fabulous prizes
Sliding scale: $10 to 20 (no one turned away)
Come out to support the many Roma families in Montreal who are currently fighting deportation from Canada.
Neo-Nazi movements in Europe are openly targeting Roma with the complicity of state authorities. Right-wing militias have marched in uniform through Roma areas, houses have been fire-bombed, children and adults have been killed. Authorities have conducted violent, forced expulsions. This overt violence builds on centuries of racism against Roma throughout Europe; economic and social exclusion that has locked Roma communities into poverty.
Many Roma have chosen to leave the region entirely, seeking better lives for themselves and their children in Canada. But, in a move reminiscent of the 'none is too many' attitude that closed the door on Jewish refugees fleeing European Nazi movements earlier in the century, Canada has turned its back on these families. Former Immigration Minister Jason Kenney declared that Roma were "bogus refugees." Evoking negative stereotypes, he used Roma as scapegoats to gather support for his plan to dismantle Canada's refugee system in favour of a market-driven immigration. In Hungary, he launched a billboard campaign to deter Roma from coming to Canada–sparking a new wave of racism against Roma in that country.
The benefit will support the struggles of several Montreal Roma families to stay in Canada.
Organized by
Romanipe, www.romanipe.wordpress.com
Solidarity Across Borders, www.solidaritesansfrontieres.org