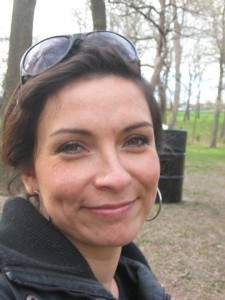 SOLIDARITY WITH IVONNE HERNANDEZ
-> Non-status survivor of conjugal violence has lost custody of her son, was arrested and detained in pre-planned ambush by border agents, and is still facing deportation
-> Read more below about what you can do, including writing letters to the Canadian Ministers of Immigration and Public Security, and the Quebec Minister of Immigration and Cultural Communities (MICC), as well as writing organizational support letters and contributing to fundraising efforts.
*** UPDATE (January 29, 2014): Ivonne now has a deportation date for February 7, 2014 and risks the possibility of being permanently separated from her son. ***
UPDATE (January 28, 2014)
Ivonne Hernandez is a survivor of conjugal violence in both Mexico and Canada who has been living without immigration status in Canada for a year and a half. She was arrested in a pre-planned public ambush involving border authorities at Berri-UQAM metro station last week on January 22, 2014. Ivonne was arrested while she was picking up her one-year old son from her ex-partner and detained.
Ivonne Hernandez was released from immigration detention on January 24 on a $4000 cash bond. She is required to report to immigration authorities regularly. The removal order against her is still in effect. No deportation date has been set, but there is a risk of removal at any time. If she is deported, her son will be separated from her, perhaps for life.
Every aspect of this case is disgusting and shocking. Ivonne should never have been detained. Ivonne should have permanent status in Canada. Ivonne should have protection from conjugal violence. And, most importantly, Ivonne, a loving mother, should not be separated from her son.
BACKGROUND
Ivonne Hernandez came to Canada to seek asylum in 2009 but was refused in 2011 and ordered deported. Rather than return to the very real danger she faced in Mexico, Ivonne joined the estimated half a million people living without papers in Canada, among the most vulnerable and exploited members of our society.
On December 11, 2013, Ivonne fled to a women's shelter with her son to escape a situation of conjugal violence. Her ex-partner promptly denounced her to authorities.
In a shocking and rushed ruling on January 10, 2014, a family court judge awarded custody of Ivonne's one-year old child to the Canadian father solely because of Ivonne's vulnerable immigration status. Ivonne and her son are allowed to see each other only eight hours a week.
Canada has made it very difficult for people in Ivonne's situation to regularize their status. Although Mexico has one of the highest rates of domestic violence in the world, and has an extremely high homicide rate, Canada has placed Mexico on a list of "safe countries", countries that Canada claims can protect its citizens from violence. A request to re-open Ivonne's immigration file was made in November, because immigration officials failed to take all of the evidence into account, but there has not yet been a response. However, the Minister of Immigration has the discretionary power – and the obligation under international law – to intervene in the file and regularize Ivonne's status.
WHAT YOU CAN DO
i) Write Organizational Letters of Support
We encourage organizations to write public letters of support for Ivonne that we can share publicly on our website. Letters written uniquely by organizations (collectives, associations, unions, locals, shelters, community centers, cooperatives, etc) have a greater impact than a generic letter. Please send your open letter of support to the Ministers named below as well as to justicepourivonne@gmail.com.
ii) E-mail/Phone the Canadian Minister of Immigration, Chris Alexander, the Canadian Minister of Public Safety, responsible for the Canada Border Services Agency (CBSA), Steven Blaney, and the Quebec Minister of Immigration and Cultural Communities, Diane De Courcy
Demand that Minister Alexander immediately regularize Ivonne Hernandez's status in Canada, which he has the power to do.
Demand that Minister Blaney cancel the removal order against Ivonne Hernandez, which he has the power to do.
Demand that Minister De Courcy directly intervene in this case to demand that Minister Alexander regularize Ivonne Hernandez's status.
[Please cc any e-mail correspondence to justicepourivonne@gmail.com]
– Contact information for Minister of Immigration Chris Alexander
Ottawa:
Telephone: 613-995-8042
Fax: 613-996-1289
Toronto-area:
Telephone: 905-426-6808
Fax: 905-426-9564
E-mails: Chris.Alexander@parl.gc.ca AND Minister@cic.gc.ca
– Contact information Public Safety Minister, responsible for the CBSA, Steven Blaney
Ottawa:
Telephone: (613) 944-4875
Toll Free: 1 (800) 830-3118
Quebec City-area:
Telephone: 418-830-0500
Toll-free: 1-877-630-0500
Fax: 418-830-0504
E-mails: Steven.Blaney@parl.gc.ca AND ministerpublicsafety@ps-sp.gc.ca
– Contact information for Quebec Minister of Immigration, Diane de Courcy
Montreal:
Telephone: 514 873-9940
Fax: 514 864-2899
Quebec City:
Telephone: 418 644-2128
Fax: 418 528-0829
E-mail: cabinet@micc.gouv.qc.ca AND deputee.cremazie@micc.gouv.qc.ca
iii) Make a financial contribution
There are several costs associated with providing support to Ivonne's struggle for justice in Canada, mainly involving paying both immigration and family lawyers to effectively prevent Ivonne's deportation, and ensure she regains custody of her child. We encourage you to donate, whether it's $10, $20, $100 or more. You can contribute by cheque, paypal or in cash, and you can contribute by mail, online, or in person.
By cheque:
Please make your cheque out to "Solidarité sans frontières and write "Ivonne support" in the memo line. You can send your cheque by e-mail to the following address (or alternatively, visit the same address and leave the cheque in the mailslot):
Solidarité sans frontières / Justice pour Ivonne
1500 de Maisonneuve West, #204
Montréal, QC H3G 1N1
By paypal:
Visit: www.solidarityacrossborders.org/en/donate
(please e-mail justicepourivonne@gmail.com if you've donated via paypal)
By cash:
Contact justicepourivonne@gmail.com to arrange a cash contribution. Alternatively, you can visit the following address between 12pm-6pm, Monday-Thursday, to make a contribution in person: 1500 de Maisonneuve West, #204 (métro Guy-Concordia).
CONTACT INFORMATION
The Friends of Ivonne
e-mail: justicepourivonne@gmail.com
web: www.solidarityacrossborders.org
tel: 438-933-7654