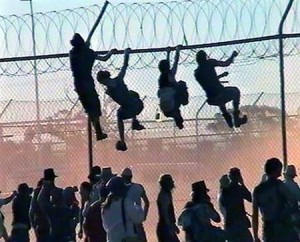 Fundraiser & moral support for family to be separated by Immigration Canada

Tuesday, 7 August at 7pm
Café Araucaria, 5607 Parc Ave. (corner St. Viateur)
Pay what you can. Suggested donation: $5 to 10 (more appreciated!)
Featuring
* Première of Double Trouble
new documentary film by Lillian Boctor about double punishment

* Mister Lust
Poetry/Rap and Reggae
and more …
Every week, tens of dark-windowed cars leave 1010 St. Antoine Street in downtown Montreal. Inside are sisters, fathers, mothers, brothers and children forcibly expelled from their homes by the Canadian state.
This is what a family from Ville St. Laurent faces in August. The father will be deported after 30 years in Canada, to a country he hasn't seen since he was 9. He'll be separated from his partner, mother, and kids for years and perhaps never see them again.
It's a case of double punishment, where the state first criminalizes and then deports immigrants. Cops produce "criminal immigrants" through racial profiling; the immigration system then violently expels them.
Come out to provide moral and financial support for this family struggling to stay together and uphold their dignity.
Funds raised will go to legal and logistical costs for this family's border struggle. Surplus to Solidarity Across Borders support fund.