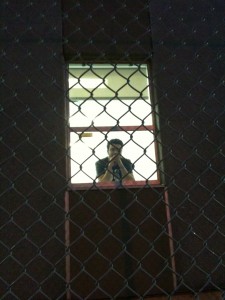 On Thursday, July 26th, the Canadian government will be proceeding with the deportation of Manuel Sanchez, even though persecution, violence and threats to his life await him in Mexico. We denounce discriminatory, neoliberal and racist immigration policies! Stop Manuel's deportation, stop all deportations! No to detention! Shame on the Canadian government and refugee bill C-31. Justice for migrants and refugees!
We invite everyone to come to the Montreal airport this Thursday, July 26th at 4pm, at the international arrivals area, close to the airline company Westjet. Let's speak out and express our anger!
Mexicains unis pour la régularisation (MUR), Action LGBTQ avec immigrants et réfugiés (AGIR), Action santé travesti(e)s et transsexuel(le)s du Québec (ASTT(e)Q), Arc-en-ciel d'Afrique, Au-delà de l'arc-en-ciel (ADA),  Conseil Québécois des Gais et Lesbiennes (CQGL), Immigrant Workers Centre (IWC),  Solidarity Across Borders, Dignidad migrante, Gais et lesbiennes asiatiques de Montréal (GLAM) denounce the decision of the Canadian government to proceed with the deportation of Manuel, a gay Mexican citizen who came to Montreal to seek asylum due to persecution he faced because of his sexual orientation. We continue to urge Minister of Immigration Jason Kenney intervene and use his discretionary powers to grant Manuel permanent residency status. In addition, we request that a stay of deportation occur until the Inter-American Commission Human Rights (IACHR) has been able to make a decision based on their investigation.
"It's an incredibly traumatizing experience to be detained. I am not a criminal, I only asked for help. I cannot believe that they hold families here with young children and some people have been here for months" – Manuel
Manuel was forced to flee Mexico because of the constant threats, and physical and sexual violence he suffered at the hands of a police officer, who wouldn't accept that Manuel had ended their relationship. Fearing for his life, Manuel came to Canada, seeking asylum. After nearly four years of living in Canada, Manuel's refugee claim and subsequent recourses to remain in Canada have been rejected. However, there are a growing number of individuals, communities and organisations that are standing in solidarity with Manuel and his struggle to remain in Canada.
On June 20th, the day of his deportation, Manuel's lawyer believed there was an international intervention by the IACHR and so Manuel decided to remain in Canada. Unfortunately, the IACHR was only in the process of collecting information, and has not yet responded to Manuel's case. NDP leader Thomas Mulcair had also made a request to Minister Kenney to use his discretionary powers to grant Manuel permanent residency status. Unfortunately, Minister Kenney has thus far refused this request. Given these circumstances, Manuel decided to present himself to the immigration office with a pre-purchased flight ticket back to Mexico for Thursday, July 26th. Manuel was prepared to return to Mexico, even though he knew this meant living in fear of being persecuted. On Friday, July 20th, Manuel presented himself with his lawyer to the immigration office. Upon his arrival, he was unnecessarily sent to detention. At the review of his detention on Monday, July 23rd, Manuel was released. However, he will be forced to leave Montreal in just 2 days.
If Manuel is forced to return to Mexico, his life would, without doubt, be at risk. Attacks against LGBT people in Mexico are still commonplace. The Mexican government cannot assure its citizens of protection and justice due to corruption and impunity which disproportionately impacts marginalized communities, including sexual minorities, visible in the number of murders of LGBT people yearly. In Manuel's case, he experienced physical and sexual violence at the hands of a police officer. The human rights abuses perpetrated by Mexican police forces and the failure to establish credible oversight controls have been well documented by the Amnesty International Annual Report 2011. Due of all of these factors, Manuel will be forced to live in constant hiding, since the police officer persecuting Manuel could easily trace his whereabouts anywhere in Mexico.
Even though Manuel will have to live in hiding if returned to Mexico, he has decided to speak out. Manuel does not want what happened to him to happen to other refugees, especially LGBT Mexicans. Manuel's case highlights the obstacles facing LGBT Mexican refugees within Canada's refugee system, which will only worsen with the implementation of exclusionary refugee bill C-31, which goes against the Canadian Charter of Rights and Freedoms and the Geneva Convention. Bill C-31 will make an already difficult refugee process, even more difficult, increasing the number of migrants and refugees facing detention and deportation.
Since Manuel arrived in Canada nearly 4 years ago, he has established strong roots here, as part of multiple, diverse communities and is heavily involved in various migrant and LGBTQ newcomer organisations. He is a gentle, thoughtful and hard-working individual who has enriched the lives of those around him. If Manuel were forcibly returned to Mexico, it would be a tremendous loss to our communities. It is for all these reasons that we continue to urge Minister Kenney to intervene and use his discretionary powers to grant Manuel with permanent residency status.
Contact:  Stewart Istvanffy, lawyer – 514-876-9776,
Ed Lee, AGIR – 514-805-9643
Source: Mexicans United for Regularization (MUR) and Action LGBTQ with immigrants and refugees (AGIR)