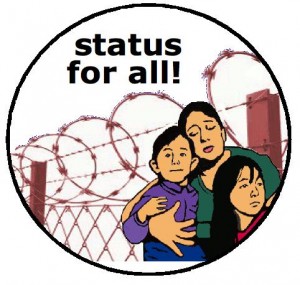 Click HERE for UPDATED INFORMATION.
STATUS FOR ALL!
March for justice and dignity for all migrants and refugees

SATURDAY, MAY 18, 2013 (MONTREAL)
-> 1pm: Gatherings at four locations: Hochelaga, St-Michel-Villeray-Parc-Extension, Côte-des-Neiges & Little Burgundy/St-Henri/Pointe-Saint-Charles/Verdun
-> March towards downtown Montréal
-> 4pm: Converging at Phillips Square (Union & Ste-Catherine West, métro McGill)
More details to be posted in the coming weeks.
We live here! We work here! We're staying here!
We march together to demand an end to deportations and detentions, and in opposition to the double punishment of migrants with criminal records. We demand Status for All, and organize for a "Solidarity City" for all residents of Montreal.
A child-friendly march. Bring your kids!
Get in touch about any accessibility needs.
-> ENDORSE THE DEMO: By endorsing our demonstration and campaign you are agreeing with our demands and you will help to publicize our events within your networks.
-> GET INVOLVED: We have committees that are doing active outreach and mobilization, as well as preparing art and other materials. Just e-mail or phone to lend your support.
-> LEARN MORE: Invite us to make a presentation about the Status for All campaign to your group or organization, to learn more about our demands and the Solidarity City campaign.
-> FOR A SOLIDARITY CITY !: We encourage Montreal-area organizations and groups to discuss and collectively sign this declaration: http://www.solidarityacrossborders.org/en/francais-declaration-pour-une-cite-sans-frontieres
Organized by Solidarity Across Borders, Mexicans United for Regularization, No One Is Illegal-Montreal, Dignidad Migrante, and the Immigrant Workers Center. (Dignidad Migrante, Mexicans United for Regularization & Solidarity Across Borders are working groups of QPIRG Concordia.)
INFO: www.solidarityacrossborders.org / 438-933-7654 / solidaritesansfrontieres@gmail.com