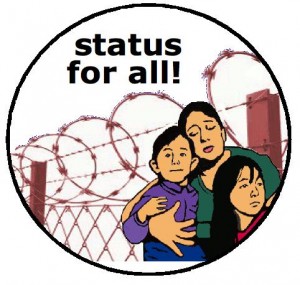 This year, the annual Status For All march will take place on May 18. More details HERE.
The march will consist of four contingents marching from different neighborhoods in Montreal that will converge downtown.
If you can help with the organization of one of the contingents, please get in touch (solidaritesansfrontieres@gmail.com).
Here are the details about the four contingents, including upcoming neighborhood meetings:
* SOUTH-WEST (Petite-Bourgogne, Pointe-Saint-Charles, Saint-Henri and Verdun)

next meeting: Monday, April 15 at 6pm

Centre Lorne, 2390 rue de Ryde, 2e étage (métro Charlevoix)
* NORTH-WEST (Côte-des-neiges, Ville St-Laurent, Notre-Dame-de-Grâce)

next meeting: Tuesday, March 26 at 6pm

Immigrant Workers Center, 4755 Van Horne, suite 110 (métro Plamondon)
* NORTH-EAST (Villeray, Parc-Extension, St-Michel, Ahuntsic, Rosemont-Petite-Patrie, Mile End)

next meeting: Saturday, April 6 at 4pm

Café Artère, 7000 avenue du Parc (métro Parc)

* EAST (Centre-Sud, Hochelaga-Maisonneuve)

next meeting: Friday, March 29 at 2pm

Atomic Café, 3606 Ontario est (métro Joliette)
info: www.solidarityacrossborders.org – 438-933-7654 – solidaritesansfrontieres@gmail.com