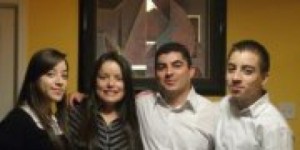 Corruption and violence in Mexico have resulted in at least 60 000 deaths in the last 6 years. This situation has been ignored by the Canadian government, which continues to deport Mexicans at a rate of 7 per day. Deportation is now imminent for one Mexican family living in Montreal, the Reyes-Mendez family, despite the danger they face of being captured by corrupt Mexican police, kidnapped and murdered
Mexicanxs Unidxs por la Régularizacion denounces the decision of the Canadian government to deport the Reyes-Mendez family and calls for strong opposition to this cruel and unjust decision. Please read below to find out what MUR is asking people to do.
ALSO, if our efforts do not succeed, everyone who supports this family is invited to come to the airport on Saturday, 19 January at 7am to show their support and say goodbye. We will meet at International Departures, near the AeroMexico desk.
BACKGROUND ON THE REYES MÉNDEZ FAMILY
The Reyes-Méndez family came to Canada seeking protection in 2008; the father of the family having been kidnapped three times by the federal police in Mexico. The family applied for refugee status but their application was refused. The IRB Commissioner argued that the family would be safe if they re-established their life in another region of Mexico.
They have not had an opportunity to appeal this decision because it was refused before the long-promised appeal division was implemented. Furthermore, changes to immigration law mean that asylum-seekers can no longer apply for permanent residence on humanitarian or compassionate grounds (H&C) or ask for a pre-removal risk assessment (PRRA) until one year after the refusal of their refugee application. Many people are deported long before the year is up and are thus denied the opportunity to apply for a PRRA or H&C.
By denying refugee status to the Reyes-Méndez family (and thousands of others who came to Canada for similar reasons), the Harper government puts this family and others at great risk. Past applicants were murdered after seeing their application refused and being forced to return to Mexico. It is known that previous applicants are more at risk of abduction and extortion by criminal gangs.
On December 27th, the Reyes-Mendéz family were notified of their date of deportation: January 19, 2013. They asked if the deportation could be postponed so that Eduardo Reyes, their 17-year old son who won a scholarship for academic performance, COULD complete his school year. This was also refused.
The deportation of the Reyes-Mendéz family would be a significant loss to the community. They contribute by volunteering at the Maranatha Church and migrant justice groups. Throughout their stay in Canada, they have built strong relationships with many classmates, co-workers, and community members. They are recognized as active participants in the community in general. Their expulsion will mean that Eduardo will lose his school year in addition to his academic scholarship.
TAKE ACTION
Mexicanxs Unidxs por la Regularizacion joins the Reyes-Mendez family and their many friends in a call for federal authorities to grant them status. We believe that this family belongs in Montreal and their deportation must be stopped! Here's how you can help:
1. We are calling on individuals and especially organizations to sign a public statement calling for a stay of removal for the Reyes Mendéz family. To add your name or the name of your organization to this appeal:
www.avaaz.org/fr/petition/Empechons_lexpulsion_imminente_dune_famille_mexicaine_dont_deux_enfants_adolescents/?eshnQdb
2. Between now and 18 January, contact the Canada Border Services Agency, which has the power to grant a stay of removal.
Explain that you are concerned about the decision to proceed with the deportation of the Reyes Mendéz family on January 19th and ask them to postpone the deportation until Eduardo Reyes can finish his school year.
Julie Thibodeau
Directorof operations, Removals
Canada Border Services Agency
1010 St-Antoine, 2nd Floor
Tel : 514-283-0936
Fax:514-496-1882
julie.thibodeau@cbsa-asfc.gc.ca
Administrative Assistant:
NoémieRainville-Pelletier – 514-496-3983
3. Between now and 18 January, call, fax and/or email Ministers Toews and Kenney.
Let them know that you are concerned that Canada is proceeding with the deportation of the Reyes-Mendéz family on January 19th. Ask them to intervene to stop the deportation and regularize the status of the family, and tell them they will be held accountable for their actions.
Jason Kenney:
Minister of Immigration
Tel.: 613-992-2235 or 403-225-3480 or 613-954-1064
Fax: 613-992-1920 or 403-225-3504 or 613-957-2688
jason.kenney@parl.gc.ca and Minister@cic.gc.ca
VicToews:
Minister of Public Safety
Tel.: 613-992-3128 or 613-991-2924 or 204-326-9889 or 1-866-333-1933
Fax:613-995-1049 or 613-954-5186 or 204-346-9874
vic.toews@parl.gc.ca and minister@ps-sp.gc.ca
ABOUT MUR
Mexicanxs Unidxs por la Regularizacion endorses the right to migrate and remain in Canada without discrimination based on origin or nationality. We denounce the detention centres and the private security companies that benefit from the imprisonment and suffering of migrants. Given the state of war against the people of Mexico and widespread violence by organized crime, we demand that the Canadian government impose an immediate moratorium on deportations and regularize all Mexican asylum-seekers.
For more information:
mexicanxsunidxs@gmail.com
https://www.facebook.com/mexregularizacion
@murunidxs
References :
Q&A: Mexico's drug-related violence. BBC.
http://www.bbc.co.uk/news/world-latin-america-10681249
Document – Mexico: Information provided by Amnesty International prior to
the Rapporteur's visit to Mexico
http://www.amnesty.org/en/library/asset/AMR41/085/2011/en/33582b75-1314-4c37-ba70-8bf4a892fc72/amr410852011en.html