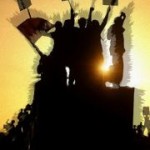 Free the Three! Freedom for Migrants! End Detentions!
Sounds of Solidarity: Caravan to / Rally at the Laval Immigration Detention Centre
(**rescheduled from Monday due to bad weather)
Sunday December 16, 2012
Meet at Metro Rosemont at 12:30pm to join the caravan to Laval
Rally at Laval Detention Centre begins at 2:30pm, returning to Montreal by 4pm
*To reserve a seat or to offer your car for the caravan, email: commissionpopulaire@gmail.com
**If there is bad weather, we have rented a bus to take us directly to Laval: either way, show up at Rosemont metro at 12:30pm
For over a decade, Mohammad Mahjoub, Mohamed Harkat, and Mahmoud Jaballah have been fighting their detention in Canada. The three were arrested under immigration "security certificates", which allow the government to arrest people without charge according to their profile, detain them indefinitely, and eventually deport them.
Although their cases are extreme, Mahjoub, Harkat and Jaballah are only three of the thousands of migrants who are imprisoned because they don't have citizenship. Furthermore, Bill C-31 will be implemented this week, permitting the government to automatically detain groups of migrants for up to a year if they are deemed to have entered Canada by "irregular means". This will likely mean that more migrants will be detained for longer periods of time.
On Sunday, join us for a family-friendly noise demonstration in front of the Laval Immigration Prevention Centre. In Montreal, a colourful car convoy will be departing from Metro Rosemont, bringing speakers, music, and messages of solidarity to those locked inside. Raise banners, bring noise-makers, bang pots and pans, and speak out against security certificates and detention.
In the event of bad weather and dangerous road conditions, we will have a bus booked and will proceed directly to the prison for the protest.
This event is endorsed by the People's Commission Network, Solidarity Across Borders, Coalition Justice for Adil Charkaoui, Dignidad Migrante, Mexicanos unidos por la regularizacion, No One is Illegal-Montreal and the South Asian Women's Community Centre.
This was part of a pan-Canadian day of action: www.supportmahjoub.org/pan-canada-days-of-action/
Background

► Between 2004 and 2011, 82,000 people were locked up in immigration detention in Canada. And at least another 13,000 since 2011.
► At least 4.8% of these detainees were children.
► Over 35% of people held under immigration law are kept in maximum security provincial prisons, some unable to leave their cells for 18 hours a day.
► In the media, the government likes to present security as a major reason for immigration detention, but in fact, only a tiny minority of immigrants are detained on such allegations. In
reality, 94.2% of immigration detention has nothing to do with security.
► There are three dedicated immigration detention centres in Canada: in Toronto, in Laval and in Vancouver. The Kingston centre, specially built for the security certificate detainees and known as "Guantanamo North", was quietly closed in 2011.
► Immigration detention centres are run in partnership with private companies like G4S, Garda and Corbel Management Corporation. In Toronto alone, G4S and Corbel were paid $19m between 2004 and 2008. Garda has the contract for the Laval Immigration Holding Centre.
► A new law (Bill C-31, enacted in June) allows the government to automatically detain groups of migrants entering Canada, if the Minister of Immigration feels they have entered 'irregularly' or that that they cannot be processed quickly enough. This will mean more immigrants detained for longer periods, including children.
► From 2004 to 2008, around 12,000 people were deported every year. Since 2008, this number has climbed to around 15,000 people deported per year.
For more information about Montreal event:
People's Commission Network
www.peoplescommission.org
commissionpopulaire@gmail.com
More information about security certificate issue:
Justice for Mahjoub Network
www.supportmahjoub.org
justiceformahjoub@gmail.com