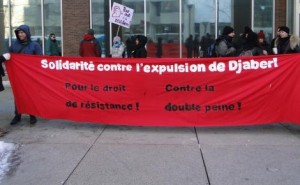 (Below is an invitation (in French only) by the Djaber Kalibi support committee. Djaber is leaving for Paris this Thursday, as the Immigration and Refugee Board decided to uphold his deportation order despite having rejected two of the three motions against him. A support picket will be held from 3PM to 3:45PM on Thursday near the international arrivals gate on the ground floor of the PET airport. Please look for the Solidarity Across Borders Banner.)
Bonjour très chèr-e-s ami-e-s et camarades. Comme vous l'avez peut-être déjà appris-e-s, malgré la tombée de deux des trois clauses, la commission de l'immigration et du statut du réfugié a entériné l'avis de déportation et d'interdiction de territoire incombant à Djaber. Il quitte donc pour Paris ce jeudi le 26 juin.
Nous vous convions à une vigile de solidarité dès 15hrs à l'étage des arrivées internationales (rez-de-chaussée) de l'aéroport P-E-T. Nous ne serons pas trop loin de la porte des arrivées et nous aurons la bannière de Solidarité sans frontières avec nous. Nous en profiterons pour entendre Djaber livrer son analyse de la situation et permettre à tous ceux et celles qui désireront s'exprimer de le faire. Le tout se terminera vers 15h45 lorsque Djaber ira chercher son passeport à l'Agence des Services Frontaliers du Canada.
Vous pouvez toujours nous écrire à : solidaritedjaber@gmail.com ou visiter notre site web : http://comitesoutien.wix.com/solidaritedjaber ainsi que la page facebook: «Arrêtons l'expulsion de Djaber Kalibi».
Cordialement,
Le comité de Soutien de Djaber Kalibi
http://comitesoutien.wix.com/solidaritedjaber
fb «Arrêtons l'expulsion de Djaber Kalibi»
solidaritedjaber@gmail.com