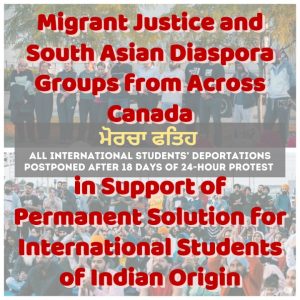 June 20, 2023
The Honourable Sean Fraser
Member of Parliament
Minister of Immigration, Refugees and Citizenship
House of Commons
Ottawa, Ontario
Canada
K1A 0A6
Migrant Justice Organizations and South Asian Diaspora Groups from Across Canada in Support of Permanent Solution for International Students of Indian Origin
Dear Minister Fraser,
We, the undersigned, write to you to urge you to put a definite stop to the deportation of scores of international students from India. These students entered Canada like any other international students and they should not have to bear the burden of proof because of fraud committed by immigration consultants and education recruiters. We repeat, the burden of proof should not be on the students, the victims of the fraud. Receiving deportation orders and the precarity of having to live with a constant threat of being separated from their families and uprooted from their communities and the associated struggle and turmoil is a painful process and is punishment in itself.
For over two weeks, from May 28, students, their supporters and community members had set up a permanent protest in front of the CBSA headquarters in Mississauga. While this protest now ended with your announcement on June 14 to halt the deportations, students continue to express their concerns over the next steps in this process. We stand in solidarity with the students and believe there can be no justice until their demands are met, which are: a permanent solution to the situation, a definitive cancellation of the deportations, and granting them permanent resident status. Nothing short of this is acceptable.
These individuals who arrived in Canada as international students call Canada home and have become integral parts of our lives. They are an asset to our communities and should be living here without any hassle or threat of deportation.
Deportations are a long standing form of institutional racism, and are manifested in the violent and coercive practices of the state. This situation is yet another example of how the Canadian immigration system and CBSA fail people and produce undocumented migrants. This is why regularization is necessary. Just like Migrant Justice and hundreds of civil society groups across Canada, we call for a comprehensive, inclusive and ongoing regularization program for all people with precarious status. All migrants should be given permanent resident status on arrival. Migrants already here must be granted permanent residency.
We once again urge you to take prompt and decisive action to provide a permanent solution, and immediate regularization and permanent resident status for these students and all undocumented people across Canada. Without this, there can be no justice.
Status for All, Dignity for All!
Sincerely,
Butterfly (Asian and Migrant Sex Workers Support Network), Toronto
Centre sur L'Asie du Sud (CERAS), Montréal
FCJ Refugee Centre
Immigrant Workers Centre/Centre Des Travailleurs Et Travailleuses Immigrants (IWC-CTTI), Montréal
India Civil Watch – International, Toronto
Migrante Alberta, Edmonton
Parkdale Community Legal Services, Toronto
Progressive Cultural Association, Calgary
Pro-People Arts Project Media Group (Sarokaran Di Awaz), Toronto
Punjabi Literary and Cultural Association, Winnipeg
Quebec Public Interest Research Group – Concordia University (QPIRG), Montréal
Rang Collective: Arts for Solidarity/Collectif Rang: Les Arts pour la Solidarité, Montréal
Shaheed Bhagat Singh Book Centre, Calgary
Solidarity Across Borders, Montréal
South Asian Dalit Adivasi Network – Canada, Toronto
South Asian Diaspora Action Collective (SADAC), Montréal
South Asian Network for Secularism and Democracy (SANSAD), Vancouver
South Asian Women's Community Center/Centre Communautaire Des Femmes Sud-Asiatiques (SAWCC-CCFSA), Montréal
Teesri Duniya Theatre, Montréal
Workers' Action Centre, Toronto
CC Standing Committee on Citizenship and Immigration
Shafqat Ali, MP
Alexis Brunelle-Duceppe, MP
Sukh Dhaliwal, MP
Fayçal El-Khoury, MP
Arielle Kayabaga, MP
Tom Kmiec, MP
Jenny Kwan, MP
Marie-France Lalonde, MP
Larry McGuire, MP
Hon. Michelle Rempelle Garner, MP
Brad Redekopp, MP
Salma Zahid, MP