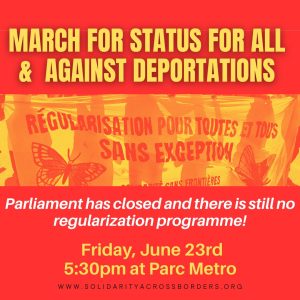 FACEBOOK
Friday, June 23rd at 5:30pm

Place de la Gare-Jean-Talon (beside Parc Metro), Montreal
The Canadian Parliament just closed for the summer and undocumented migrants are still waiting for a regularization programme.

Undocumented migrants and all major organizations and unions in Canada and Quebec have been demanding that Prime Minister Trudeau move forward on a regularization programme granting permanent residence to all undocumented migrants.
Now Trudeau and his colleagues have gone off on vacation and we continue to be shut out of schools, deprived of healthcare, exploited at work, separated from their families and communities, arrested and deported.
We feel angry and betrayed by the failure to move forward on regularization.
On Friday, 23 June, we will take to the streets for an evening march!
Gather at 5:30pm at Metro Parc
We insist on our equality as human beings, we insist on our dignity and worth. We demand a regularization programme that gives full permanent resident status to every single migrant in the country, and permanent residence on arrival for everyone entering Canada. We demand an immediate end to deportations and detentions.
All out! Call your friends! We need your solidarity, the situation is more urgent than ever!
STATUS FOR ALL, STOP THE DEPORTATIONS, END DETENTIONS!