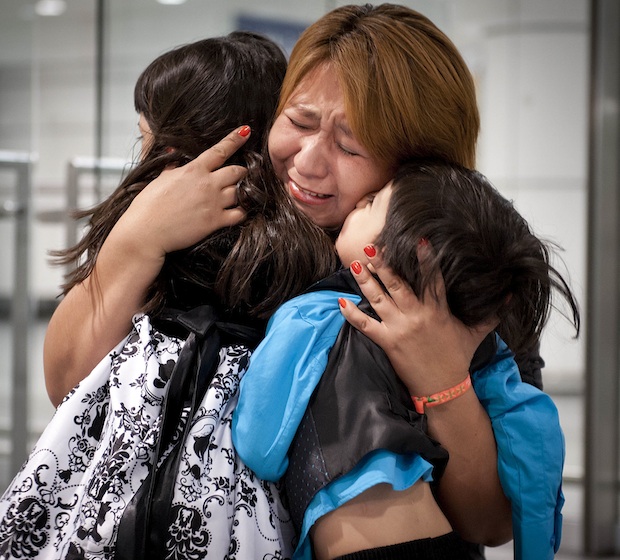 Media coverage HERE. 
Paola comes Home!
After having been deported by Canadian Border Services Agency (CBSA) on September 23rd, 2011, Paola Ortiz has finally come home. She returns to her family, her two children, her friends, and her job. In 2011, the federal government refused her refugee claim under the pretext that the Mexican state could assure adequate protection to female victims of domestic violence. Seven months later, Immigration Canada has agreed to accept her application for permanent residency and Paola arrived in Montreal with legal status on April 13, 2012.
Paola Ortiz's return marks the end of seven extremely difficult months of living in semi-underground conditions in the country that she tried to flee six years ago because of domestic and sexual violence committed against her by her partner at the time, a federal police officer. Her daily existence in exile was defined by isolation, fear of reprisals, and uncertainty with regards to her future and the possibility of seeing her children -both Canadian citizens- who remained here in Montreal with family members.
Paola's struggle to stay here exemplifies the struggle of many. The Canadian government claims that Mexicans are "fake refugees" abusing Canada's generosity, and as such, has deliberately targeted this community with visa requirements and mass deportations. Yet, Canada is blatantly denying its role in the increased poverty, the widespread violence, and the forced displacement of entire populations that is ravaging Mexico. Canada, through trilateral agreements like NAFTA and the Security and Prosperity Partnership (SPP), has served to protect authoritarianism, militarization, and impunity in Mexico.
Paola's perseverance, despite the enormous odds and painful decisions she was confronted with, inspires us all. Paola's victory is shared by her friends, social organizations and supporters who continue the fight for justice, dignity, and Status for All!
Thank you Paola for your courage!
More information on Paola's case HERE