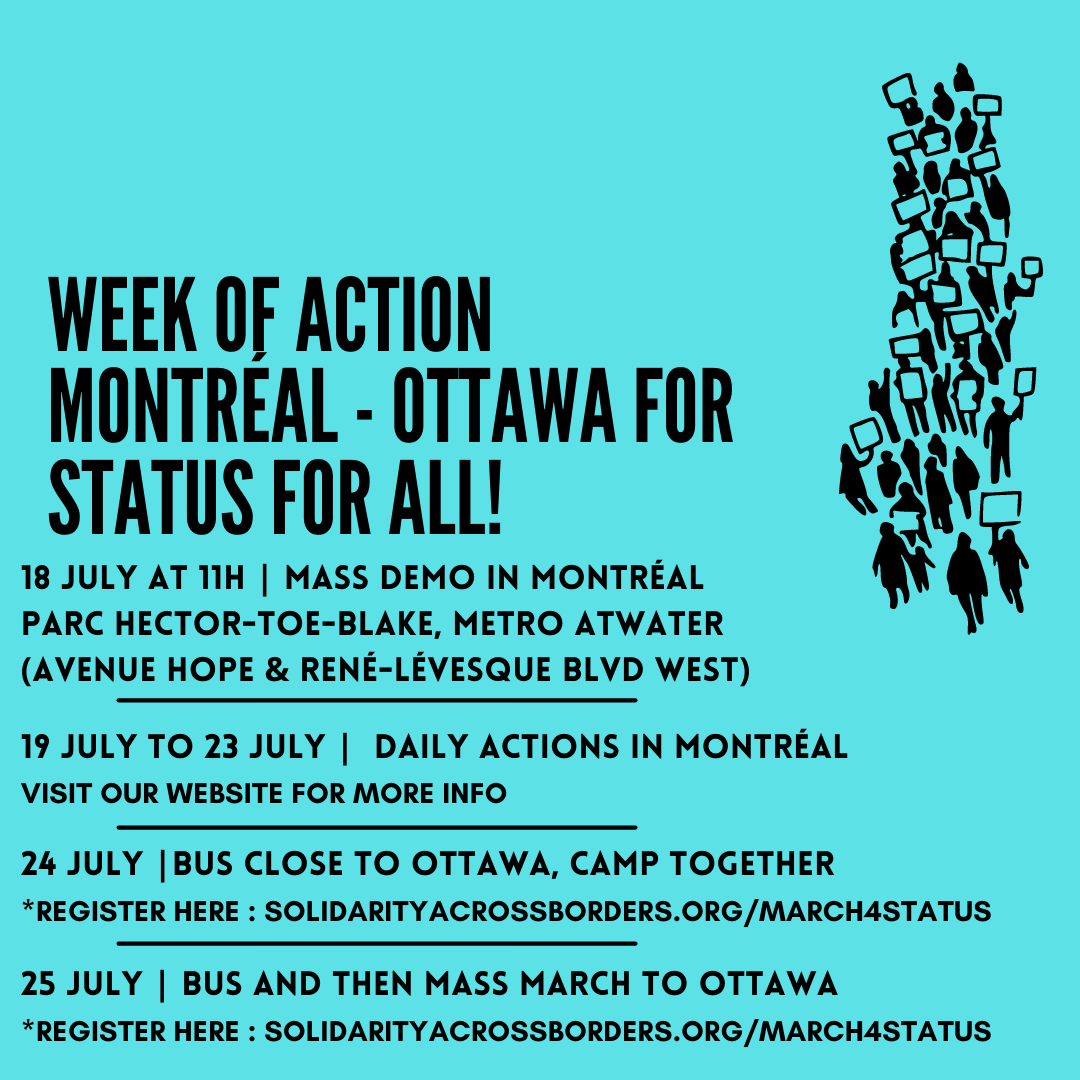 Mass March in Montreal
Sunday, 18 July at 11am, Parc Hector-Toe-Blake, René-Levesque Boul. Ouest / rue Hope (métro Atwater)

Neighbourhood flyering for Status for All
Monday, 19 July: contact us at solidaritesansfrontieres@gmail.com to join us in your neighbourhood
Dollarama workers for Status for All
Tuesday, 20 July at 2:30pm at de la Savanne Metro
Community Supper/Eid Al Adha Celebration
Wednesday, 21 July at 5pm. Contact us à solidaritesansfrontieres@gmail.com for the location (places are limited).
Health for All
Thursday, 22 July at noon at the MUHC – Glen (Vendôme metro)
Soccer Game: CBSA vs undocumented migrants
Friday, 23 July at 4pm, Parc Jarry (around St. Laurent & Villeray/Gounod)
March into Ottawa
Saturday July 24th and Sunday July 25th, Montréal and Ottawa
Register here to reserve a seat to go to Ottawa and receive full details. DEADLINE: July 22 at 3pm.
* Saturday, July 24th: we leave Montreal to camp near Ottawa and then march into Ottawa the following day
or
* Sunday, July 25th at 8am: we leave Montreal to go close to Ottawa, we march into Ottawa and return to Montreal at the latest by 9pm the same day
Share this information by facebook
Download and share social media images, flyers and posters.
From 18 to 25 July 2021, Solidarity Across Borders is organizing a week of action Montreal – Ottawa, to mobilize support for a comprehensive and ongoing regularization programme for all migrants with precarious status. Trudeau, we are sick of half-measures and hand-outs like your new regularization programme! We are coming! We demand dignity, equality and justice! Status for All!
The COVID-19 pandemic has pushed migrants without permanent status into ever deeper precarity while simultaneously shining a public spotlight on the place they hold in Canadian society as both essential to the capitalist economy and treated as disposable.
This week of action is being organized by undocumented migrants in Montreal. They carry the hopes of non-status community members across the country on their shoulders. They fight the violence of Canada's immigration system collectively but also on a daily basis as it intrudes into their lives. Many are unable to pay rent, afford food or pay for even urgent medical needs. This is directly related to their status: they have no access to a work permit, healthcare, daycare subsidies, social assistance or any other state support. The jobs available to them are few and far between, and those that do exist are hyper-exploitative.
The pan-Canadian Migrant Rights Network has taken the lead in mobilizing support across Quebec and Canada for status for all, a position echoed in recent months by Louise Arbour, the City of Montreal, and Amnistie internationale Canada francophone.
This is a moment to fight for a more just and equitable world. Migrants and refugees across Canada are courageously standing up to say they are not disposable. Their movement does not ask what is possible, it asks what is required by human dignity and justice, and what we must do to stop the destruction of the world.
We invite everyone to come join us, whatever your status: undocumented, temporary workers, refugees, farm workers, domestic workers, foreign students … even residents and citizens. We need your support and solidarity. Together we are strong! This is everyone's struggle.

We will take all safety measures to make sure everyone is safe. Don't hesitate to contact us for more information, especially around accessibility. We want the march to be accessible to everyone.