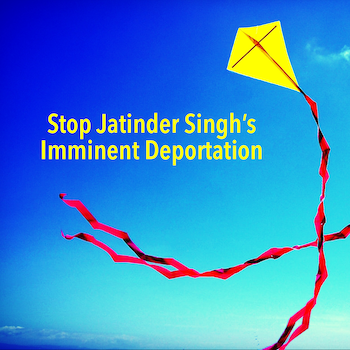 Press release
Bill Blair must and can still stop the deportation of Jatinder Singh: Canada's shocking double-standard must end
Jatinder Singh boards a flight from Trudeau International Airport in Montreal to Toronto Pearson International Airport. His flight from Toronto is scheduled to depart at 16:50. Bill Blair can and must act to stop the deportation which is proceeding without having examined the risks Mr. Singh faces in India.
Additionally, by proceeding to deport Mr. Singh, Canada is in violation of what the UN and WHO has asked states to do: "suspend forced returns during the pandemic, in order to protect the health of migrants and communities"·
Canada is also practising a blatant double standard, because it is going ahead with this deportation even as it continues to enforce a flight ban from India, in the attempt to curb the spread of Covid-19:
"As the number of COVID-19 cases remain disproportionately high in India and Pakistan, we have extended our flight restrictions and third country pre-departure testing requirements for these countries. These ongoing measures are in place to help protect Canadians, and manage the elevated risk of imported cases of COVID-19 and variants of concern into Canada during a time of increasing pressure on our health care system."
The Honourable Omar Alghabra, Minister of Transport
Community groups, family members and supporters demand this deportation be halted. This deportation is an inhumane travesty of justice that undermines Canada's international commitments for refugee protection and public utterances on the issue of the global pandemic!
Jatinder became undocumented in October 2019 after his refugee claim was refused and he was ordered to leave the country. After working throughout the pandemic as a truck driver, Jatinder was arrested following a minor car accident and spent two months in detention. He was released during the month of May under the condition to wear an electronic ankle tracking bracelet, and was set to be deported on June 15th. The federal court did not do him justice and ignored the lack of appropriate representation he faced.
Jatinder is on his way to returning to India as the country continues to be ravaged by a devastating second wave of the pandemic.
Supporters denounce the Canadien government's decision to deport Jatinder Singh, and demand instead justice and status for him and all migrants.
Solidarity Across Borders
India Civil Watch-Montreal
Centre d'étude et recherche sur l'Asie du Sud (CERAS)
South-Asian Women's Community Centre (SAWCC)