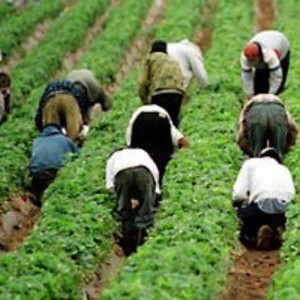 Press Conference: Migrant justice organizers denounce the deportation of Guatemalan migrant worker this morning, the result of drug raid on employer
Friday April 29th at 10am
At the Immigrant Workers Centre
4755 Van Horne, Office #110 (Metro Plamondon)
Montreal, April 29, 2016 – Migrant justice organizers are denouncing the recent arrests and deportations of temporary migrant workers based near Drummondville, QC, the result of a drug arrest having to do with the employer, and not the workers.
One migrant worker is scheduled to be deported this morning to Guatemala as a result of a Surêté du Québec raid on the Éric Dupuis Strawberry Farm on December 23, 2015. According to an article in L'Express, Éric Dupuis, the Canadian employer, was producing psilocybine (magic mushrooms) at his farm in Wickham, Québec. The workers had come to Canada in October 2015 believing that they would be working in fruit and vegetable production, including strawberries, raspberries, apples, and mushrooms. Tied to their employer and rurally isolated, the workers did not speak French or English. When the workers turned to the Consulate of Guatemala for support following the seizure of their workplace, they were handed over to the Canada Border Services Agency and detained.
The Guatemalan worker's request for a stay of deportation was rejected Thursday (April 28th) and he is slated to be deported at 9:35am today. A father of four, he is worried about the consequences his deportation will have on his family and his future. Having taken out nearly $5,000CAD in loans to pay recruiters and administrative fees to come to Canada, the worker is leaving Canada more indebted than when he arrived.
"They are going to remove me from Canada as they wish because we Guatemalans come here to work, and we just do what they tell us to do in order to have a bit more to live, to support our families, not to steal from anyone. Yes, I'm leaving this country, but what can I do, we are just temporary workers and we are not allowed to stay."
Noé Arteaga, a former temporary foreign worker residing in Montreal, adds: "I am angry that workers are being treated in such a way in a country that claims to be democratic and respect human rights; all in all, the basic rights of Guatemalan migrant workers are not protected."