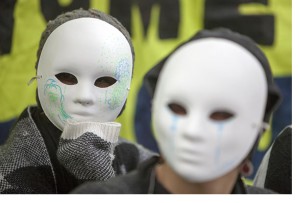 Following the Press Conference held on January 17th by the Montreal Non Status Women's Collective, and its positive media impact, we would like to continue the dynamic.
To do so, we need all of you and your networks to help us get the word out and try to reach Mr. Trudeau by all possible means (facebook, twitter, etc.). We invite you to share the media articles, photos and video (links below), asking "@JustinTrudeau why no response to the non status women?"
If you are a non status woman, we invite you to add your name to our open letter, which can be found here.
Media Articles:
Cri du coeur, La Presse
Veulent sortir de l'anonymat, Journal du métro
Demand Regularization, McGill Daily
Pide respuestas al primer ministro Trudeau, Noticias Montreal
Deportation Threat, VICE
Femmes sans statut, VICE
Moving Call, Jooneed Khan, Rabble.ca
—
Montreal Non Status Women's Collective
www.solidarityacrossborders.org/en/non-status-women
femmes.sans.statuts@gmail.com