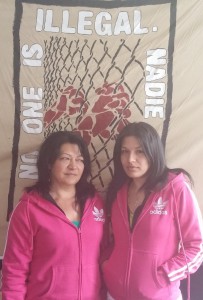 Week of 1st August 2016
to: [member of parliament]
cc: solidaritesansfrontieres@gmail.com

RE: Stop the deportation and regularize the status of Gilda and Robertne Lakatos

[letterhead]

[date]

Dear [name of MP],

[NAME OF ORGANIZATION or YOUR NAME] is a [brief description of your organization or of yourself].

I am writing to ask you to to write to Minister McCallum and ask him to urgently intervene in the case of Gilda and Robertne Lakatos, who are ordered deported on 11 August.

Minister McCallum recognized that they were in "exceptional circumstances" and granted them a rare Temporary Residence Permit (TRP) until on 17 May.
The Lakatos family filed an application for permanent residence on humanitarian grounds more than 10 months ago. The temporary permit is now expired but there is still no answer on the humanitarian application. Please support this family being accepted without delay.
Here is the media coverage of this situation: www.solidarityacrossborders.org/en/media-coverage-lakatos
Here is a chronology of the family's story: /en/chronology-lakatos-familys-story-of-survival

Sincerely,
[signature]
[name]