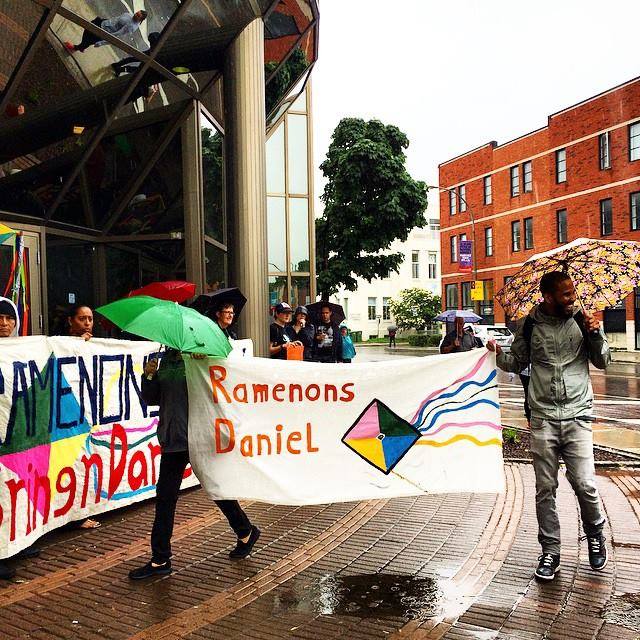 The mother of 17-year old "Daniel" has released a recorded statement addressed to Kathleen Weil, the Minister of Immigration of Quebec. Describing her difficult life as an undocumented, single mother in Montreal, "Guadalupe" asks the Minister of Immigration to help bring her son, who is partially deaf, back to his community and family in Montreal.
On 16 June, supporters of the family rallied outside Weil's offices. The deportation of this undocumented teenager, who was arrested in a high school where his status was known to staff, is a result of the failure of the government of Quebec to make Quebec schools safe and accessible for all children, regardless of their immigration status. The Quebec Ministry of Education (MELS) still requires students to divulge their immigration status and may pressure families without valid papers to pay bills of $5000-$7000 per year. School staff's knowledge of student immigration status imperils the safety of undocumented kids. Supporters thus called on Weil and the Quebec government to assume responsibility in Daniel's file.
During the rally, community members handed Weil's office a copy of the application for permanent residence on humanitarian grounds that the family had submitted, with community support, before Daniel was deported last October. The file is more than 500 pages long and includes many letters of support from community organizations and friends.
In his response to Radio Canada's interview with Guadalupe, Canadian Minister of Immigration Chris Alexander stated on 11 June that Canada had no need for a global regularization programme for the hundreds of thousands of families living without status in Canada, because these families could regularize by submitting a humanitarian application. The situation, he said, was "manageable".
Alexander's response to Guadalupe's interview
But, for Guadalupe and others with her status, life is hardly "manageable". Alexander's case by case approach simply means prolonging the exploitation, insecurity and suffering of undocumented people, whose labour subsidizes the social benefits enjoyed by Canadians. Solidarity Across Borders calls for a global solution and regularization of all people without papers in Canada, now.