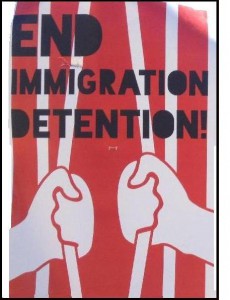 Monday, 13 July, 8am
Immigration and Refugee Board,
Guy Favreau Complex (200 René Lévesque Blvd.), Montreal https://www.facebook.com/events/128043434196127/

Deepan Budlakoti, our comrade and friend, will be in Montreal to challenge his conditions of release at the Immigration and Refugee Board. Deepan is under a deportation order to India, his parents' country of birth. He spent months in immigration detention and was released under conditions that limit his freedoms. Because India does not recognize him as a citizen and is refusing his deportation, Deepan is under these conditions indefinitely, with no end in sight.Deepan was born in Ottawa and his Canadian citizenship was never in question until a racist prison guard reported him to Immigration Canada. This initiated a process in which Canada arbitrarily decided that he was not a citizen on the pretext that his parents came to Canada to work as household help in the Indian Embassy and then proceeded to strip him of permanent residence because of his criminal record. More information on his struggle to have his citizenship recognized:
www.justicefordeepan.org
.Join us on July 13th for a rally and then stay afterwards; we'll try to fill the room with supporters if they allow us to attend the hearing.
NO to double punishment!
NO deportations!
NO detentions!
JUSTICE for Deepan!