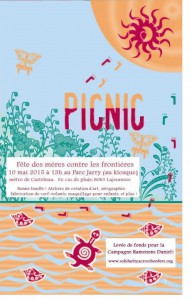 Fundraiser for Bring Daniel Home campaign
https://www.facebook.com/events/102494350082374/
Sunday, 10 May 2015, 1pm
Jarry Parc (metro Castelnau), near the Kiosque
***in case of rain: 8065 Lajeunesse (corner of Jarry, at métro Jarry)***
Any special dietary needs or other accessibility questions? Get in touch at solidaritesansfrontieres@gmail.com!
* Delicious, cheap food!
* Art-making for the 31 May march to Stop Deportations (31 May, St-Michel Metro, 2pm), including Kite-making and Silk-screening (bring your own tshirts)
* Letter-writing for Daniel
* Activities for kids, including FACE-PAINTING!
* Fun, games & solidarity
On Mothers' Day, the Bring Daniel Home Committee is hosting a picnic to celebrate the struggle of Daniel's mother and other courageous mothers who have crossed and defied borders for their children. The event is also a fundraiser to help cover costs of Daniel's mother's continuing fight to gain status in Canada for her family and bring her son back home to Montreal.
Guests are invited to come with a small toast to celebrate the courage and strength of mothers against the violence of borders: a poem, a testimony, or an art activity to do with others at the picnic.
Background
Daniel's mother came to Canada seeking a better future for herself and her children; especially her son Daniel, who has a disability (being partially deaf). Her refugee claim was refused and she had the choice of returning with her children to a place she considered unsafe or remain without status in Canada. With courage and hope, she chose to stay. She and her children joined the estimated half million people living in Canada without state permission. For six years, in these difficult conditions, she strove to support her children and create a home and future for her familiy in Montreal. But, on her son's 17th birthday, she got the terrible news that he had been arrested at a school in Montreal and turned over to border police. School staff is suspected of having reported the undocumented youth to police. He was detained for over a week and, without even having the chance to say goodbye to his mother, deported alone to Mexico. His mother, still in Montreal with the rest of the family, has started a public campaign to try to bring him back and get permanent status for her whole family in Canada. (More background: www.solidarityacrossborders.org/category/bringdanielhome.)
Join us in fun and solidarity to celebrate this mother and all courageous mothers standing up to state violence and borders.
End the violence of deportations!
No one is illegal! Access for all!