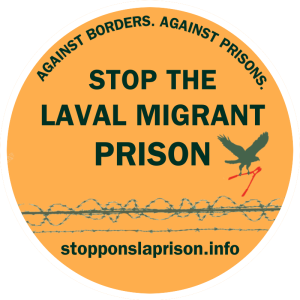 add your name or the name of your organization here
We, the undersigned groups and individuals, are joining the struggle to stop the construction of a new prison for migrants in Laval, scheduled to open in 2021.
In 2016, the Canadian government announced the construction of two new prisons for migrants – one near Vancouver and one near Montreal – and more money for "alternatives to detention." The announcement was made in response to broad public outrage against Canada's imprisonment of refugees and migrants, sparked by hunger strikes by migrant detainees protesting their indefinite detention.
The Liberal government presents this project as a more humane way to detain migrants. In our view, the plan represents an additional investment ($138 million) into a violent system which should be abolished, one whose overriding goal is to uphold colonial borders and the unjustifiable global division of wealth and power. Detention serves to forcibly deport people to situations of violence, poverty, and extreme exploitation – which Canada is often directly involved in creating, for example, through Canadian mining companies. Fear of detention also helps keep undocumented workers within Canada compliant – often under highly exploitative conditions – and undocumented women in situations of abuse. We want a world without prisons or colonial borders; a world in which people can decide where to move and where to stay; a world based on mutual aid, not fear, precarity and exploitation.
The Montreal-based Lemay architecture firm, designing the new Laval migrant prison, is aiming for a "homey" feel and plans to "aesthetically" conceal the fences and bars. We ask: does a person who is detained indefinitely, who is facing forced expulsion, care about the colour of the prison walls? What is the purpose of aesthetic foliage but to conceal the reality of Canadian state and society?
We do not even believe that conditions would be better in the new prison. The Canadian Border Services Agency is an intrinsically violent organization; no institution under its control will ever be humane. We haven't forgotten Lucia Vega Jimenez, Bolanle Idowu Alo, Lucy Francineth Granados and the many others injured or killed in CBSA custody.
The government promised that it would stop imprisoning migrant children. But plans for the new Laval migrant prison include a family room and a playground for children. We are not surprised: as long as the state continues imprisoning migrant parents, it will continue imprisoning migrant kids.
We also reject "alternatives to detention," including the GPS/voice recognition systems already being piloted in Montreal. We believe they will only intensify and expand the state's control and surveillance of individuals and our communities.
We refuse to allow the state to build a new prison to detain our family members, neighbours and friends and treat them with a violence that has such devastating and lasting effects on their mental and physical health and on our communities. We refuse to participate in the global theft of resources, land and labour which this project serves. We will work in our own ways to stop it.
—–
List of signatories: https://bit.ly/2WGBq9A
—–
Background: www.solidarityacrossborders.org/en/background-immigration-detention-in-canada-and-the-new-refugee-prison-in-laval
For more info on the hunger strikes: https://endimmigrationdetention.com
For more info on the project in Laval: https://www.stopponslaprison.info