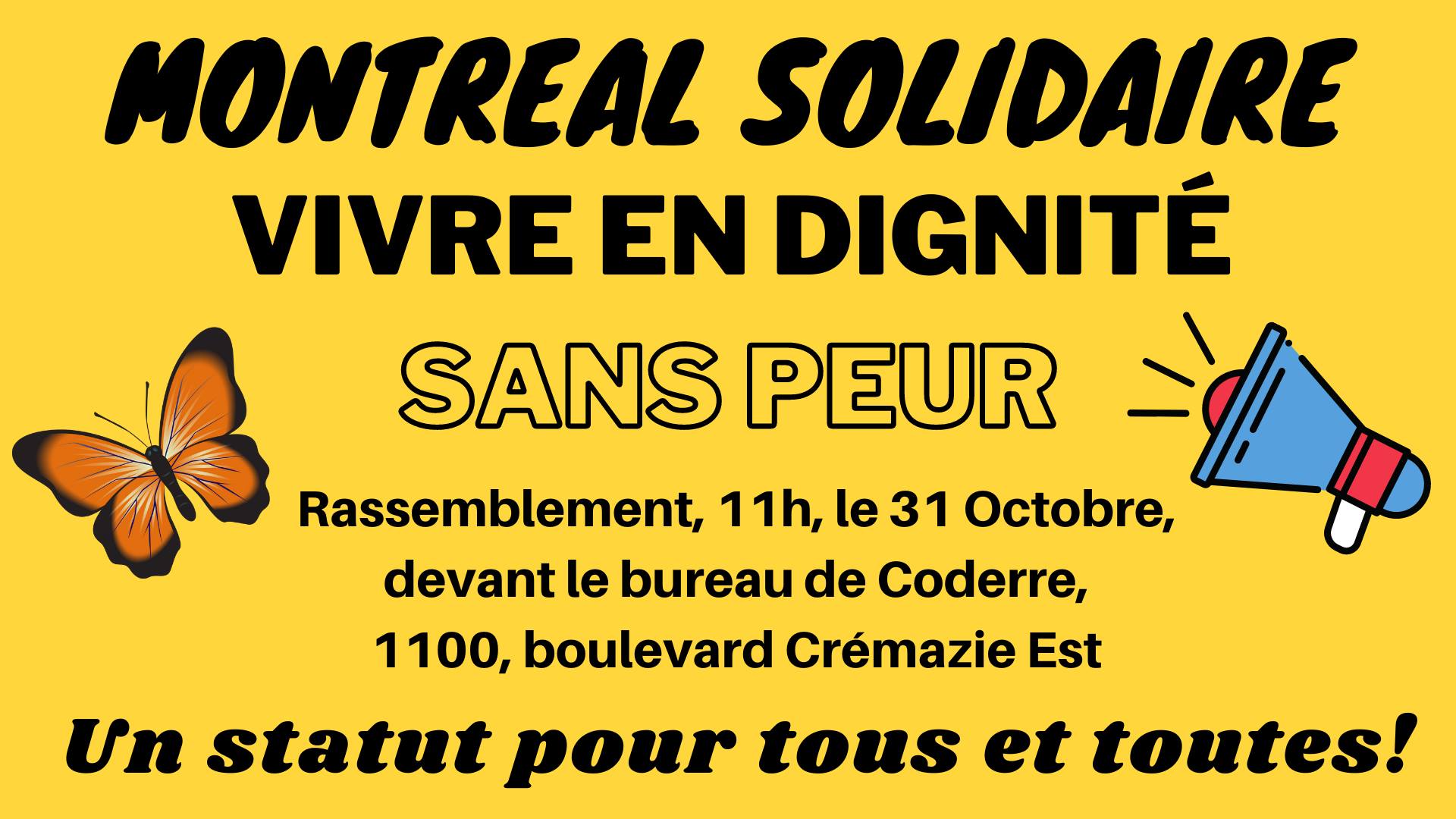 Sunday October 31, 11h
Rally, in front of Denis Coderre's campaign office
1100 Crémazie East (metro Cremazie)
https://fb.me/e/1kqi1HZSa
This Sunday, October 31st, we will be holding an action in front of Denis Coderre's office, at 1100 Cremazie (metro Cremazie) at 11am to continue our fight for regularization. It will be to put forward our demands at the municipal level to make Montreal a city of solidarity!
Once again, undocumented community members are being ignored by candidates in the Montreal municipal campaign. All parties are failing us, so join us this Sunday to remind Montreal's political elites that we are here and we are staying! We call on the city to do everything possible to make Montreal a Solidarity City now!
Our proposals for the undocumented migrants' platform:
– We want to live in dignity!
– We want dignity at work!
– We want our exploitation to stop!
– We want to live without fear!
– We want all civil rights!
– We want housing, food, health, and safety!
– We want status for all!
– We want to stop being stigmatized!
– We want to be recognized workers, not exploited labour in times of labour shortage!
– We want an identity card like they have in New York!
– We want the daily misery of undocumented migrants and refugees to end!
– We want Canada to stop destroying our countries!
We do not forget that Valérie Plante said that there was no sanctuary city here, that Denis Coderre was the federal minister of immigration and deported tens of thousands of people, that Denis Coderre declared Montreal a sanctuary city in an inconsistent manner and did nothing to make it happen. We also remember that the city of Montreal passed a resolution to regularize undocumented people. We are tired of waiting and need change now.
We demand a Solidarity City, and to live in dignity and without fear. Status for all!