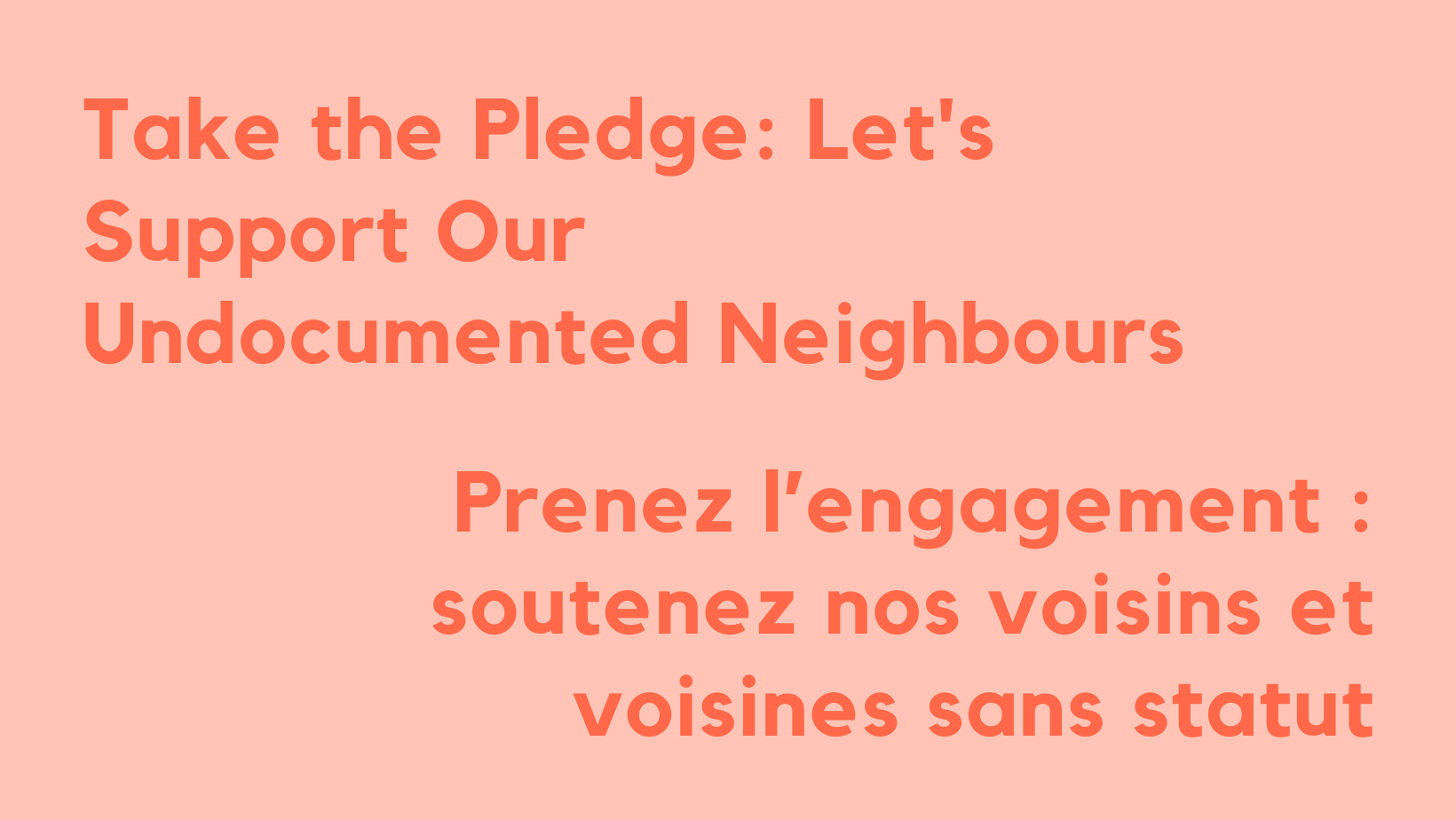 SIGN UP TO MAKE YOUR PLEDGE TODAY
For many of us this crisis began well before COVID-19 arrived. For years, hundreds of thousands of people have been living across this country without status, in conditions of shocking precarity and desperation. They are denied access to safe and stable work, reliable healthcare, childcare, secure housing, and most of the other systems of support afforded to citizens. The pandemic has only sharpened these inequalities and made them harder to ignore.
We have listened to politicians talk about community and belonging, telling us that we're all in this together, even as they refuse to commit to meaningful change. Over the past several months, tens of thousands of us have taken to the streets, organized press conferences, written letters and signed petitions, called elected officials and talked with their neighbours and coworkers. While the government continues to recklessly disregard the lives of our undocumented community members, it is clearer than ever that the kind of change we want will only come from ourselves and from each other. Status For All is more than an imperative demand, it is a grassroots social movement, and it is growing stronger by the day. That's why we're asking you to take this pledge.

PLEASE USE THIS GOOGLE FORM TO FORMALLY COMMIT TO THE PLEDGE


THE PLEDGE

1. I will become a monthly donor.
I believe in solidarity, reparations, and the redistribution of wealth. While the government ignores these vital members of my community, I will take direct action to support their survival.

2. I will find ten friends who will also take this pledge.
I commit to finding ten other people who can also become monthly donors. We have resources and tools to help you make this happen at http://solidaritesansfrontieres.org/pledge.

3. I will fight for Status for All.
All people must be guaranteed equal access to safety, security, and the means to fully participate in social life. A comprehensive regularization programme is the only just solution. As I work to raise funds, I will also fight to demand #StatusForAll.


We're asking you to commit to this change and to this movement. One of the most effective ways that we can support non-status migrants leading the way forward in this struggle is through material support and mutual aid. As you know, Solidarity Across Borders has since March been redistributing hundreds of thousands of dollars, which has helped hundreds of individuals and families – many of whom are actively involved in organizing for Status For All – pay for rent, food, medication and other basic needs. We take care of each other so we can fight together. This is not charity: it is an active practice of solidarity and a small movement towards redress for the generations of exploitation that have built this country into what it is today. The work we do now is building our collective capacity for the struggles to come, and it's laying the foundations of the new world we are building.