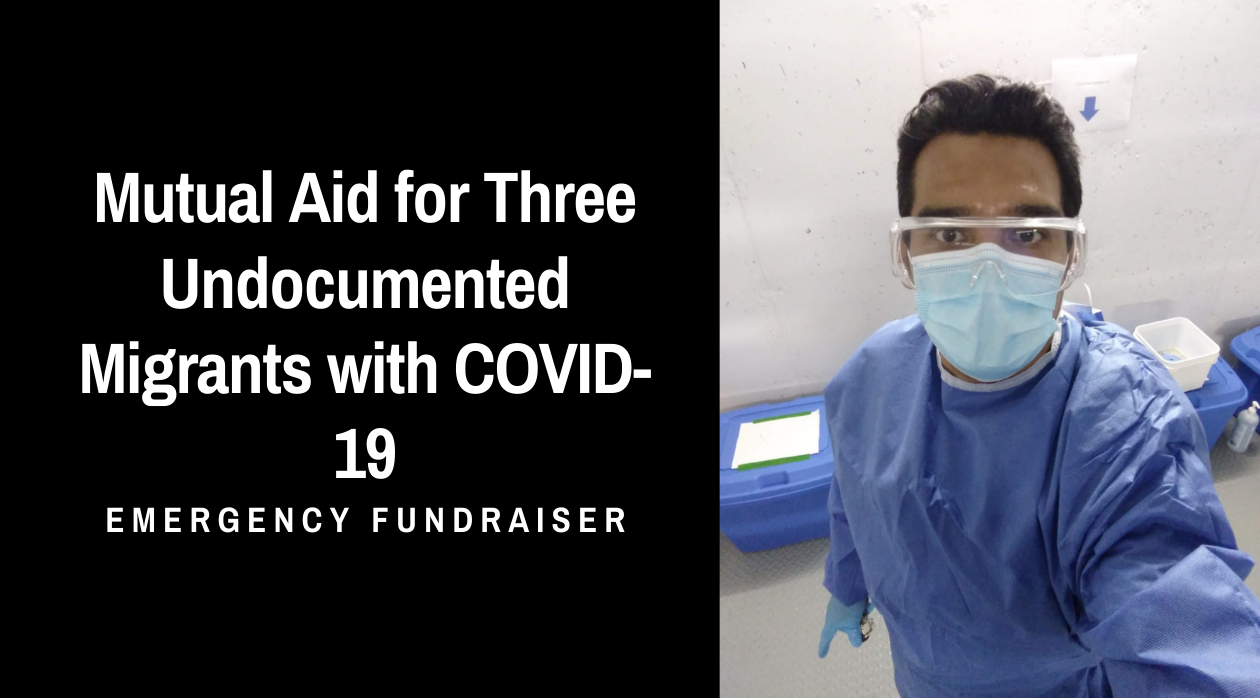 Mamadou, S. and Omar are all undocumented migrants who are active in the struggle for Status for All. Because they are undocumented, they have no valid SIN, no sick leave, no emergency benefits, no job protection. So, when they each contracted COVID-19 earlier this month, these three migrant workers were simply sent home, with no pay and no access to any government aid and no job to return to. They need our support!
Ways of donating:
• E-transfer: send e-transfers to solidaritesansfrontieres@gmail.com
• Facebook: https://www.facebook.com/donate/430285791464646/10221859468109120
• PayPal: go to our website and click the "Make a Donation" button on the right-hand side
• GoFundMe: https://www.gofundme.com/f/levee-de-fonds-pour-nos-voisins-sans-statut
• Cheque: make out to "Solidarité sans frontières" and mail to:
Solidarity Across Borders
CP 65083 BP Mozart
Montréal, QC
H2S 2S0
Mamadou … When he was a student in his home country, Mamadou was part of a national movement fighting for affordable tuition. He came to Canada with a dream of pursuing higher education. But once in Canada, he couldn't afford tuition. For a migrant like Mamadou, tuition not only means access to education, it means status. Mamadou lost his status and, with it, his dreams. Refused a work permit, he now works every kind of under-the-table job he can find to maintain himself in a minimum of dignity and to support his entire family in his home country: chimney sweep, construction worker, mover, restaurant work, deliveries … and more. In early November, he got COVID. He's now recovered but without work for weeks and with no job to return to, he needs community support. In this video, Mamadou describes his experience as a migrant to Canada: https://www.facebook.com/388641067857226/videos/1182822515401259
S. is alone in Canada with her ten-year-old son. She came as a refugee with her husband in 2012, but their refugee application was refused and they were ordered to leave Canada. The United Nations intervened and asked Canada to stop the deportation. Every week, she and her husband went to sign at CBSA offices. However, unbeknownst to them, their lawyer did not follow up with the UN. Thus, when they went to sign one day, they were told that their case was over and her husband was arrested. Despite a strong mobilization by the community, he was detained and deported four days later. At the same time, CBSA was trying to get travel documents to deport the rest of the family. When they succeeded, S. was afraid and stopped going to CBSA offices. Now undocumented, S. lives in fear. CBSA officers came looking for her at both her home and work last winter; warned by neighbours, she ran to take her son out of school. They stayed in a bus shelter before a friend offered to take them in. S. is also forced to work and live in conditions which put both her and her son at risk. She got COVID at work and soon transmitted it to her son, as well as two other people in their shared apartment. Already behind an entire month's rent, she will not be able to afford rent for a second month.
Omar is a graphic designer from Mexico, who has helped design many of the posters used for the Status for All campaign. He came to Canada on a visitor's visa last year and remained after the visa expired. In March, the police stopped the car Omar was riding in as a passenger. There was no reason to stop the car: it was a case of racial profiling. The police, a structurally racist institution, asked everyone in the car for ID and called the Canadian Border Services Agency (CBSA) to check Omar's status. They found out that his visa had expired and arrested him. But the CBSA had suspended most deportations because of the pandemic, and told the police to release Omar. They advised Omar to make a refugee application in order to regularize his status. Ever since, Omar has been trying to do so, but Immigration Canada stopped doing eligibility interviews in mid-March, leaving Omar and many others in limbo. This means he is still not eligible for a work permit or any other form of public support. Throughout the first wave of the pandemic, Omar worked cleaning shops and "essential" businesses. Two months ago, he began working as a cleaner in a care home for the elderly, and then was assigned to the wing for people with COVID-19. He had no choice because he had no other way of supporting himself. He tested positive for COVID last week.
Please give generously! All extra funds raised will be distributed to other undocumented migrants through a fund managed by Solidarity Across Borders. Tens of thousands have lost their jobs as the second wave of COVID-19 ravages migrant and racialized communities. In addition, most of the jobs available to migrants without regular status disappear every winter. Instead of supporting these members of our communities, federal and provincial governments continue to act as though they do not exist.
Dignity and equality! Status for All!