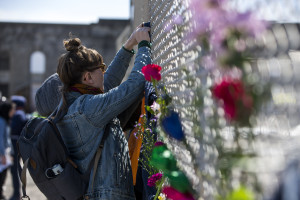 One year after the deportation of Lucy Granados, Montreal community gathers to denounce racist and colonial immigration system and demand her return.
On April 13th, friends and supporters of Lucy Francineth Granados marked the one-year anniversary of her deportation with a rally at the Laval Immigration Detention Centre. One year ago, they had gathered in the same location in an attempt to physically block her deportation.
Lucy Francineth Granados lived in Montreal from 2009 to 2018. In March 2018, she was violently arrested at her home by four CBSA officers. She spent 24 nights in the migrant prison before being deported, still injured from the CBSA attack. To date, she has not received an answer to her application for permanent residence on humanitarian and compassionate grounds- if it is accepted, she could return. She is in daily contact with her friends in Canada, and the campaign to bring her home continues.
With chants of "Bring Lucy Back," "Solidarité avec les sans papiers," "No borders, no prisons, stop the deportations!" and "Migrant Prison? Shut it down!" the colourful crowd redecorated the fence around the detention centre with silhouettes of Lucy and other detained and deported community members, banners, flowers, and clothing, to represent migrants like Lucy who defy borders around the world in search of safety for themselves and their children.
"We are gathered to show that, despite the violence of colonial borders, Lucy is still a dear member of our community," said Bill from Solidarity Across Borders. "We have not stopped and we will not stop working to bring her back to her home," he added.
The group was prevented by a heavy police presence from going to the back of the detention centre, where Lucy had been forced by CBSA through several fences into a waiting convoy. In sharp contrast to the armed force beside them and the cruelty of prisons, supporters sent powerful messages of solidarity and love over the prison walls. Carmelo, from the Mexicans United for Regularization (MUR), and Jihad, from Solidarity Across Borders, both of whom spent time in the migrant prison, courageously denounced the violence of Canada's immigration system and demanded Lucy's return. Lucy also addressed the crowd by phone, speaking movingly of her struggle and expressing gratitude for the ongoing support of her many friends.
The group then marched to the planned site of the new migrant prison, where Amy from Solidarity Across Borders shared information about the new prison and the important campaign to stop it from being built. Slated to become operational in 2021, the new migrant prison represents an investment into the state's continued capacity to detain and deport migrants like Lucy. Construction has not yet begun, beyond a large pit dug at one end of the site. Supporters threw seed bombs, in a symbolic act of defiance that aimed to reclaim the site and to prepare the muddy grounds for better uses.
Idil from Solidarity Across Borders wrapped up with a powerful speech, beginning with Home by poet Warsan Shire, and concluding, "They can dress this project up as nicely as they want but those of us here see it for what it is and it is our responsibility to make sure we let as many others as we can know as well. It is our responsibility to push back against this project, to fight, and to ensure that it never sees the light of day."
More context about Lucy's campaign: www.solidarityacrossborders.org/en/bring-lucy-back-the-campaign-to-support-lucy-granados-continues
More about the new prison: www.stopponslaprison.info