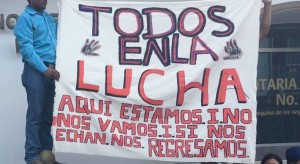 Wednesday, November 28th 2018 @ 8:30am
Honduran Consulate, 1255 boul. Robert-Bourassa [University St.], Montreal H3B 3V8 (McGill metro)
https://www.facebook.com/events/2014536155333614/
** Please share this call to your networks. During the demo, to expose the responsibility of Canada in creating the conditions which displace people, we will pass different locations which contribute to the violence forcing people to leave their countries. Join us! **
On October 12th, a group of about 1400 migrants – most from Honduras, and including many families – began walking towards the US-Mexican border to escape a situation of generalized violence, endemic poverty, and government repression which has intensified since the 2009 coup, which was supported by the Canadian and American governments. At least 1700 people have already reached Tijuana, a border town with Southern California. [Follow their progress here:https://cis.org/Migrant-Caravan-Map]
Their long and dangerous trip has already been met with repression on the part of the Guatemalan and Mexican states, under pressure from the United States. They are currently in extremely difficult circumstances (at least 4 people have died and 2 buses with 80 migrants – with 65 children on board – have simply disappeared). US President Trump sent around 5000 soldiers to the US-Mexican border to stop them from crossing.
We therefore call for a march in solidarity with the caravans on Wednesday, November 28 at 8:30am, in order to:
– Send a message of solidarity with migrants;
– Expose the responsibility of the Canadian State and Canadian companies in Honduras and Latin America, who are involved in looting these countries and forcing people into exile;
– Encourage our communities and our allies to stop allowing the Canadian state to close its borders to people fleeing the wreckage it helps create;
– Call for open borders!
Freedom of movement for all!
Organized by the Comité des droits humains en Amérique Latine (CDHAL), the Honduran Community in Québec, Projet accompagnement Québec-Guatemala (PAQG), Projet accompagnement solidarité Colombie (PASC), Solidarity across borders and Food Against Fascism