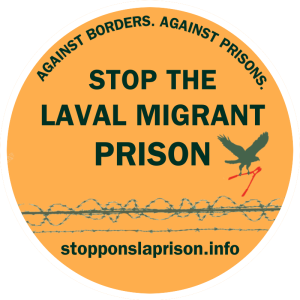 Solidarity across borders is supporting this event, organized by others.
When: Saturday November 17, 2018 at 6pm
Where: L'Achoppe (1800 rue Letourneux)
What: Construction has almost begun on a new migrant prison in Laval, Quebec. The ground has been remediated and the next step is pouring concrete and laying the foundation. Meanwhile, the federal government is hoping to increase the numbers of deportees by 30% in the coming year and the CAQ is continuing to promote and implement anti-immigrant and Islamophobic policies, stoking the fire of the far-right.
Detention is a cornerstone of the state's border system and stopping the construction of this new migrant prison could be a serious threat to its capacity to deport and to the explicitly anti-immigrant world the CAQ and the far-right want to build. Stopping prison construction period, whether it's for migrants or criminalized people, is an important struggle in the fight against white supremacy, patriarchy, capitalism, colonialism, and domination.
Come learn about the necessity of building a struggle to fight the construction of this new prison from an anti-border, anti-prison perspective. We will share information about the government's plan as well as ways to plug into the struggle to stop it.
Who: for more information visit stopponslaprison.info
Whisper translation, childcare, and food will be provided.