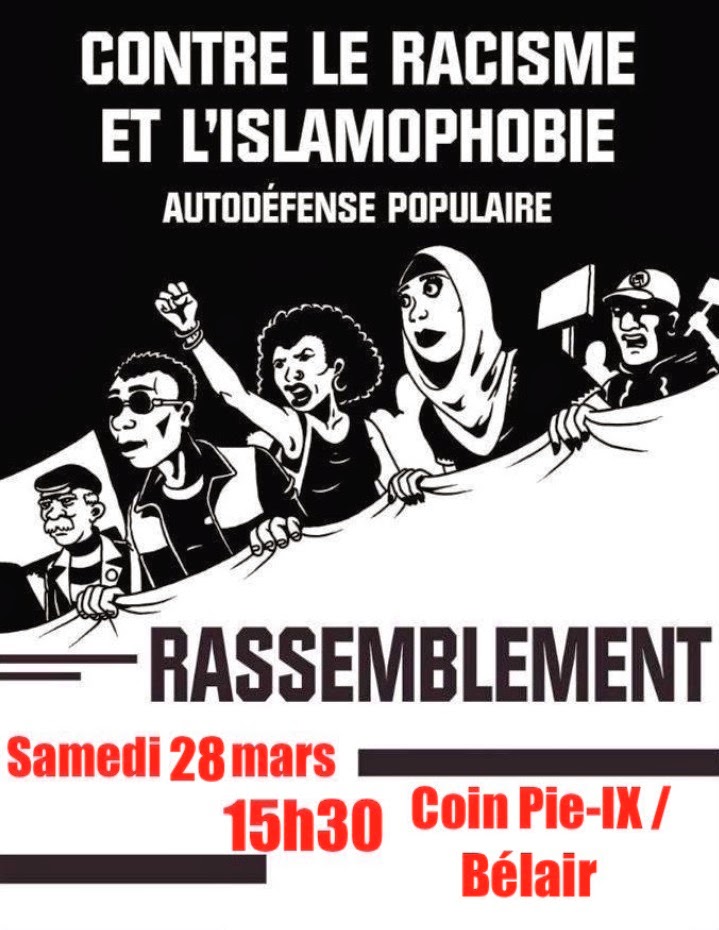 AGAINST RACISM AND ISLAMOPHOBIA
Collective Self-Defense!
Gathering to oppose the demonstration of PEGIDA Quebec
SATURDAY, MARCH 28, 3:30pm (sharp!)
at the corner of Pie-IX and Bélair
map: https://goo.gl/maps/bqwI2
-> FROM St-Michel métro (blue line)
WALK: go east and south to Pie-IX & Bélair (approximately 20 minutes)
BUS: take the 141 or 188 bus east to Pie-IX and Jean-Talon then walk south to Bélair (about 10 minutes)
-> FROM Pie-IX métro (green line)
BUS:  take the 139 or 439 bus north to Bélair, north of Belanger, south of Jean-Talon (approximately 15 minutes)
PEGIDA Quebec is organising a demo to spit their hatred on muslims of Montreal. Let's reserve them a welcoming committee so they understand that there is no place for fascism in our neighbourhoods.
– facebook event by Anti-Fascist Action Montreal (counter-demo): www.facebook.com/events/332526340287635/
– facebook event by PEGIDA Québec (demo): www.facebook.com/events/711478965616078/
– counter-demo poster available here: http://nooneisillegal-montreal.blogspot.ca/2015/03/contre-le-racisme-et-lislamophobie.html
The anti-immigrant, racist and Islamophobic group "PEGIDA" (Patriotic Europeans Against the Islamization of the West, which originates in Germany) is trying to demonstrate openly, choosing to do their "Canadian" launch in the "Petit Maghreb" area of Montreal (an area of small businesses and residents predominantly from North Africa) and planning to march on Pie-IX south to Belanger, outside an Islamic Center.
Many local anti-fascist and anti-racist groups and individuals are participating in a counter-demonstration. Let's shut PEGIDA down! Openly anti-immigrant racists cannot be allowed this kind of space in Montreal, and definitely not in a mainly immigrant area.
Please consider attending the counter-demo in large numbers. Please share this event. If you're coming, please show up on time.
The PEGIDA leader is quoted in this Toronto Star article – http://on.thestar.com/1BpXOkA – and they have gotten police permission to demonstrate. But, police permission doesn't mean the permission of pro-immigrant, anti-racist movements in Montreal. Again, please attend in large numbers. The more we are, the safer we are. PEGIDA are cowardly, and our sheer numbers will scare them away.
This demonstration is supported and endorsed by Solidarity Across Borders.