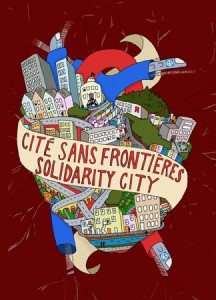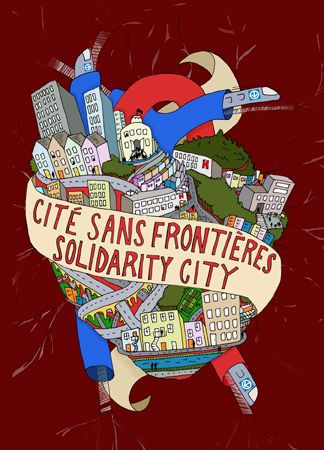 COMMUNITY AND NEWS ADVISORY
For immediate release
Solidarity Across Borders denounces CBSA weekend sweep
Detainees report marked increase in numbers of migrants at Laval Detention Center
Contact Information:
438-933-7654 (please leave a message)
solidaritesansfrontieres@gmail.com
(Montreal, March 26, 2015) Solidarity Across Borders, a migrant justice network resisting deportations and detentions, is openly denouncing, and informing the public, concerning first-hand reports of Canada Border Services Agency (CBSA) enforcement, detention and abuses in the Montreal-area.
Solidarity Across Borders has received troubling and credible reports in the past two days from detained migrants and their families, via telephone and in person. They report the following:
–      that on Saturday, March 21st, 2015, CBSA agents conducted a sweep of various homes targetting and arresting undocumented migrants.
–      On Wednesday, March 25th, CBSA conducted a raid on a factory, arresting 7 undocumented workers.
–      that CBSA agents have refused to provide warrants to enter premises and have otherwise entered illegally through back or unlocked doors;
–      that upon entry, CBSA agents conducted unauthorized searches of homes
–      that CBSA agents have unduly pressured potential deportees; for example, by threatening to deport one family without their Canadian-born child;
–      that CBSA agents have not provided adequate and timely access to competent legal representation for recent detainees;
–      In addition, we have heard of instances of racial profiling during roadside checks, in which passengers in a given car were asked to provide their identification documents.
CBSA, as part of their day-to-day activities, routinely detain and deport migrants, and abuse their authority. Solidarity Across Borders denounces those ongoing structural abuses by the CBSA.Solidarity Across Borders has specific messages for undocumented migrants, for the mainstream media, and for supporters and allies:
-> To undocumented persons, as well as their family and friends: We urge basic vigilance and discretion, as most migrants practice daily, as a form of survival. If you think that the CBSA might know your address in any way, for whatever reason, change it. There are tens of thousands of undocumented migrants in the Montreal-area who are able to function beyond the reach of the CBSA. Recent CBSA arrests are meant to create fear and perpetuate isolation. We urge undocumented people to take basic precautions, but also to remain steadfast in resisting the CBSA. We encourage everyone to exercise their right to silence and privacy while in their homes.  We also wish to remind everyone that only the driver of a car is obliged to provide identification to a police officer during a roadside check.  For more information, visit: http://toronto.nooneisillegal.org/knowyourrights
-> To the mainstream media: We ask that you hold the CBSA accountable for their actions with persistent and consistent questions, including: Is the CBSA currently increasing their enforcement in the Montreal-area? If yes, where have undocumented persons been targeted, and why? Are the CBSA entering homes without search warrants? Are the CBSA preventing detainees from accessing legal representation in a timely manner? Are CBSA agents threatening to separate parents from children? What are the exact statistics of arrests and detentions in the past week and the past month. These questions, and more, can to be posed by journalists to CBSA and Canadian government officials. Solidarity Across Borders members can also provide background information, and potential access to current detainees fighting their deportation.
-> To everyone else, including allies in the struggle to support migrants: We need your support. As part of a building a Solidarity City, we aim to provide direct mutual aid to undocumented persons which is a generalized collective disobedience of CBSA enforcement. We need support with accessing basic services as well as providing housing, and employment opportunities for people without papers. If you can help contribute to this effort at collective action and support, please get in touch.
Media Inquiries and Contact Information:
438-933-7654 (please leave a message)
solidaritesansfrontieres@gmail.com
www.solidarityacrossborders.org