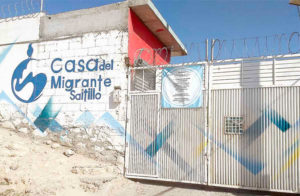 This event has been cancelled.
in the context of the Spring against the Prison
Wednesday, March 18th
CEDA, 2515 rue Delisle, room 115* (metro Lionel Groulx)
Light dinner at 6pm
Rountable and Discussion at 7pm
facebook: https://www.facebook.com/events/517627182470294/
whisper translation: en/fr/sp. accessibility: room 115 is approached by a short flight of stairs (around 8 steps). childcare: no childcare is available but children are welcome and toys/art materials will be available. about the virus: see below at *
Thousands of people, from all regions of the world, take the "migrant trail" every year: walking, jumping trains, swimming all the way up from Brazil through Mexico to cross "The Line" into the global north. Along the way, they face violence by state forces – CBC just exposed that this violence receives concrete support from Canada – and smugglers, often with some level of collusion between the two. But, the migrants also meet many forms of solidarity and support from community members. Those who make it all the way to Canada may find themselves detained for weeks or months in the migrant prison in Laval, uncertain if they will be released or deported. Several survivors of the journey are currently imprisoned in Laval.
Round-table speakers:
Javier Martínez Hernández, the legal coordinator of the Saltillo Migrant Shelter. The Casa del Migrante Saltillo, which is situated near the US-Mexico border, provides humanitarian support, medical and psychological care, and legal assistance to more than 12,000 migrants each year transiting through Mexico.
Lena Weber, PBI-Mexico advocacy coordinator. The Peace Brigades International-Mexico Project provides accompaniment to at-risk human rights defenders from 16 organizations working on forced disappearances, impunity, women's rights, Indigenous rights, and environmental protection. They have a project with the Saltillo Migrant Shelter.
Eloy and Mary, Solidarity Across Borders. Solidarity Across Borders fights against detention and deportation and for status for all and a solidarity city. SAB has opposed the Safe Third Country agreement since it was implemented and called for the Canadian border with the USA to be opened in response to migrants entering Canada from the USA in greater numbers.  Since a multi-million dollar investment to "upgrade" Canada's migrant detention system, SAB has joined the fight to stop the construction of a new prison for migrants in Laval. More info on Solidarity Across Borders.
* About the virus:
– Advice on protecting self and others: www.who.int/emergencies/diseases/novel-coronavirus-2019/advice-for-public
– Call for solidarity and mutual aid: Let's remember that many in our community are vulnerable, among other reasons, because of isolation, lack of access to healthcare, and constrained choices due to immigration status.