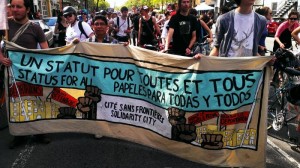 Planning for two weeks of events between June 2-15, 2014
Members of Mexicans United for Regularization (MUR), No One Is Illegal and Solidarity Across Borders, with the support of Dignidad Migrante and the Immigrant Workers Center, have begun organizing for this year's STATUS FOR ALL mobilization for migrant justice. A report-back from last year's mobilization can be viewed here.
This year, we're planning two weeks of activities and events, from June 2-15, with Saturday, June 7 reserved for a family-friendly migrant justice march in Montreal.
We are calling on allied organizations and affinity groups to organize activities, including civil disobedience and direct actions, on the theme STATUS FOR ALL during this period. Some preliminary ideas include: community dinners; neighborhood contingents; street theatre; popular education evenings; demos and actions at the Laval detention center, Canada Border Services Agency (CBSA), Minister of Education or other institutions; banner drops; street art; postering; and more.
Please send your event proposals to unstatuspourtoutes@gmail.com by April 22, 2014 (before 5pm). Don't hesitate to get in touch to share your ideas.
(If you want to be involved with this year's mobilization, we also strongly encourage you to attend our next open meeting on Tuesday, April 22 at 6pm. The meeting will take place at 1500 de Maisonneuve West, #204 (near métro Guy-Concordia). The space is wheelchair accessible. If you need childcare for the meeting, please contact unstatutpourtoutes@gmail.com in advance. Get in touch about any accessibility needs. Our meetings take place in French, English and Spanish, with translation available. If you can't attend the meeting but can help out, please get in touch via unstatutpourtoutes@gmail.com.)