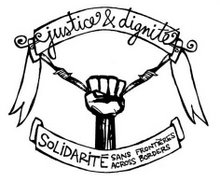 Tuesday, 15 April, 6pm to 9pm
CEDA, 2515 Delisle St. (Lionel Groulx Metro)

free childcare! translation english-french-spanish! free food! wheelchair accessible!
do you have any other needs we should meet so that you can participate?
contact us at solidaritesansfrontieres@gmail.com
Come out to the first seasonal assembly of Solidarity Across Borders (SAB)!
Solidarity Across Borders recently decided to hold four open assemblies a year, one each season. These assemblies are places to discuss overall strategy of Solidarity Across Borders, react to changes in the political context, bring new proposals and make decisions. They are opportunities to think and plan together and to share resources as we oppose deportations, detentions and double punishment of migrants, and work to make Montreal into a Solidarity City.
WHY?
Thousands of people are deported from Montreal every year. Many others live in precarity; under temporary workers' programmes, without full status, or without papers. They are vulnerable to super-exploitation in the workplace and to domestic violence, and are denied access to healthcare, education or other social services. Canada's immigration system is part of a system of global apartheid, protecting the privileges of a tiny minority at the expense of the vast majority, who are denied the means to live in dignity. Individually, we have little power to change this situation; only by working together can we begin to challenge it.
WHO IS WELCOME?
Everyone who agrees with our demands is welcome, particularly those facing the impact of the immigration system themselves. While discussion is open to all, only members will participate in decision-making. Members agree with our demands and are either directly affected by the immigration system, involved in one of our committees, or contribute to SAB organizing when and as they can.
OUR DEMANDS
SAB opposes the deportations, detentions and double punishment of migrants. We call for status for all in Canada, now! We work to make Montreal a solidarity city, where everyone can live in full dignity with equal access to healthcare, education, and other public services.
HOW TO GET INVOLVED
Coming to an assembly is a great way to start getting involved in SAB! In addition, SAB has five active committees (Health for All!, Collectif éducation sans frontières, Food for All, Shelters not Borders!, and Support) and two temporary committees (Decolonize and Anti-Oppression). SAB also actively supports and participates in the Status for All coalition with others. Contact us at solidaritesansfrontieres@gmail.com to find out which committees are actively recruiting and how to get involved.
More information
* Read our website www.solidarityacrossborders.org, contact us by email solidaritesansfrontieres@gmail.com or telephone tel:438-933-7654.
* To receive updates, join our listserve by emailing solidaritesansfrontieres@gmail.com or like our facebook page, https://www.facebook.com/CiteSansFrontieres