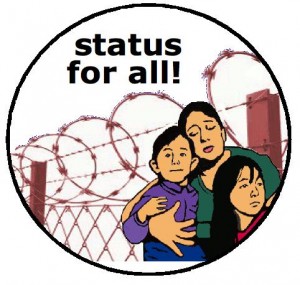 "Status for All!" Community Dinner in the South-West 
in collaboration with CEDA
Friday, May 3, 2013
at Café Mozaik, CÉDA (2515, rue Delisle), métro Lionel-Groulx
Dinner starts at 6:30pm
Food, entertainment, speakers and more!
FREE. Childcare and kids activities on site. Bring your family!
Welcome to all!
The Status For All Coalition is a Montreal-area migrant justice network resisting deportations, detentions, and double punishment, while demanding "Status For All," and an end to the systemic discrimination against those who migrate. We work to build a Solidarity City where all residents of Montreal can live in justice and dignity whatever their immigration status. We also actively support Indigenous struggles and movements for self-determination.
This year our family-friendly march will take place on Saturday May 18th, starting from four different locations – South-West, North-West, North-East and East – to converge on downtown.
In preparation for the march, the organizers of the South-West contingent (residents of Little Burgundy, Point-Saint-Charles, St-Henri and Verdun) invite you to join us for an evening of delicious Indian food, good company, entertainment and shared stories from those who are fighting for justice and dignity.  Learn more about our Status for All campaign, and our efforts to build a Solidarity City.
The Status for All coalition is composed of Dignidad Migrante, Mexicans United for Regularization, the Immigrant Workers Centre, Solidarity Across Borders, No One Is Illegal-Montreal, and allied individuals.
Info: solidaritesansfrontieres@gmail.com
If you can help with the preparation of food, or help with cleaning, get in touch!
Contact us with your questions about accessibility.
Information about the march:
http://www.solidarityacrossborders.org/en/may-18-status-for-all-march
For more info on our demands:
http://www.solidarityacrossborders.org/en/revendications
Read our statement in support of Indigenous struggles and sovereignty:
http://www.solidarityacrossborders.org/en/statement-of-support-for-indigenous-struggles-and-sovereignty