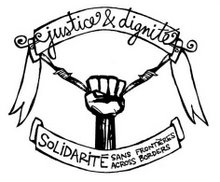 SOLIDARITY ACROSS BORDERS GENERAL ASSEMBLY
Let's build and organize together for a Solidarity City in Montreal!
SATURDAY, APRIL 27, 11am-2pm
at Café Artère, 7000 avenue du Parc (métro Parc)
(brunch begins at 10am)
Learn more about campaigns about Status For All, education, women's shelters, food, housing, double punishment, and more.Open to Solidarity Across Borders members and new people who want to get involved.
– childcare on-site
– the venue is wheelchair accessible by ramp, but the washrooms are not completely accessible
– assembly in French, with translation towards Spanish and English
– please get in touch about any accessibility needs
– please confirm if you're attending, if possible, at solidaritesansfrontieres@gmail.com
—
AGENDA
– A Brief History of Migrant Justice Struggles in Montreal (presented by Sarita Ahooja)
– Updates & Information about Solidarity City from different committees:
Collectif éducation sans frontières / Food for All! / Support Work Committee / Access to Shelters / Against Double Punishement  and more
– Participatory discussion and mini-workshop: How to Build the Solidarity City Campaign Together (45 minutes)
– Report-back from the Solidarity Across Borders Coordination Committee
– Presentation & Approval of SSF Budget
– Approval of Coordination Committee & Support Work Fund Managers
– Update about the Status For All march
—–
This assembly is open to both Solidarity Across Borders members, and new people who want to get involved.
To better prepare for the Assembly, please confirm in advance if you're coming by e-mail at solidaritesansfrontieres@gmail.com . If you confirm in advance, we can send you some internal documents relating to the Assembly.
—
WHO IS A MEMBER OF SOLIDARITY ACROSS BORDERS?
All members are in agreement with the following main demands of Solidarity Across Borders:
i) against deportations and detentions;
ii) for an ongoing and comprehensive regularization program for all non-status migrants, meaning Status for All;
iii) against the double punishment of migrants with criminal records;
iv) for a Solidarity City, so that everyone in Montreal can live in full dignity, with access to all essential services.
Solidarity Across Borders' membership, for the purposes of our general assemblies, is comprised of the individuals who are in agreement with the demands above and are either:
i) individuals directly affected by the immigration system as migrants facing precarity,
and/or
ii) individuals involved with one of the active Solidarity Across Borders or Solidarity City committees (coordination, support work, education, food, access to shelters, double punishment, art …)
and/or
iii) individuals who support or contribute to the organizing of Solidarity Across Borders when they can.