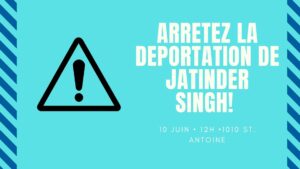 What: Speak-out in solidarity with Jatinder Singh
When: Thursday, June 10, 2021 at noon
Where: In front of 1010 St. Antoine W. (Canada Border Services Agency)
https://www.facebook.com/events/334609211462645
Community members, supporters, and friends will once again be gathering to demand a stop to the deportation of Jatinder Signh, scheduled to take place in less than 7 days. We will be gathering in front of the Canada Border Services Agency (CBSA) office at 1010 St. Antoine W. to demand an end to the racist violence of CBSA. Jatinder's deportation is iminent and time is running out – join us as we demand an immediate stop and permanent status for Jatinder!
Jatinder became undocumented three years ago, after his refugee claim was refused after obtaining improper legal advice from an unqualified consultant, and he was ordered to leave the country. After working throughout the pandemic as a truck driver, Jatinder was arrested following a minor car accident and spent two months in detention. While he was released recently, his conditions stipulate that he must wear an electronic tracking bracelet- an invasive measure that the CBSA is increasingly using as a means of expanding its surveillance and control over migrants. In addition, Jatinder's family must pay $800 per month to cover the costs of the bracelet.
We denounce the detention and deportation of Jatinder Singh, as well as the use of electronic tracking bracelets!
We are calling instead for status for all, and for a comprehensive, ongoing regularisation program for all migrants!
Join us for a rally in solidarity with Jatinder, and with all non-status migrants!
Status for all!
No to deportations!
No to detention!
No to electronic tracking bracelets!
*** Call and send e-mails to ministers in support of Jatinder Singh ***
Bill Blair, Minister of Public Safety
E-mail: Bill.Blair@parl.gc.ca
Phone : 613-995-0284
Fax : 613-996-6309
Marco Mendicino, Minister of Immigration, Refugees and Citizenship
E-mail: Marco.Mendicino@parl.gc.ca
Phone : 613-992-6361
Fax : 613-992-9791
You can also use this text as inspiration for e-mails, or modify it slightly if you want:
"I am writing to ask that you stop the deportation of Jatinder Singh to India, which is scheduled for June 15, 2021, and that you release him from his electronic tracking bracelet.
The COVID-19 situation in India is so catastrophic that even flights from India to Canada have been suspended. Why then should an undocumented person be less protected than the rest of the population of Canada?
Furthermore, electronic tracking bracelets are increasingly used by CBSA to expand its surveillance and control over migrants. Not only are these bracelets inhumane, but they have serious impacts on the mental health of migrants and their loved ones. What Jatinder needs is freedom and status, so that he can live in dignity with his family and community. Please act now, so that Jatinder and his family can stop living in constant fear- and please do the same for all non-status people!"