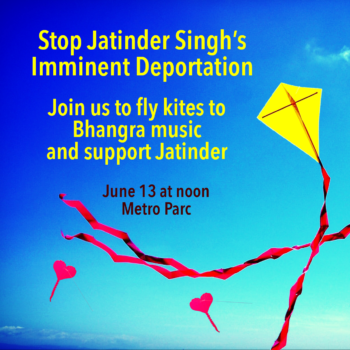 What: Rally (Bhangra-Kite flying) in support of Jatinder Singh
When: Sunday, June 13, 2021 at 12pm
Where: Plaza, 7245 rue Hutchison (Métro Parc)
FAMILY FRIENDLY EVENT
Facebook event
Show your support for Jatinder
Come out and fly a kite on Sunday.
"Give me some sunshine
give me some rage
give me another chance
I want to live again"
– One of Jatinder's favorite Bollywood songs.
The flying kites to Bhangra music symbolize efforts to soar his spirits and support his aspirations to live his life fully in safety in Canada, free from political violence he faces in India.
We call on friends and community members to come out in large numbers and support Jatinder Singh's demand to stop the imminent deportation. The action is taking place just two days before Jatinder's scheduled deportation to India.
If his deportation should proceed, Jatinder would be returning as India continues to be ravaged by a devastating second wave of the pandemic. To date, more than 27 million have been infected and 300,000 deaths have been reported- with many fearing that the actual toll may be far higher. Having been undocumented since October 2019, Jatinder was detained for two months after a minor car accident and released with an electronic tracking bracelet. Despite an outpouring of community support over the past two weeks, Public Safety Minister Bill Blair and Citizenship, Immigration, and Refugees Minister Marco Mendocino have both remained silent.
A federal court appeal was filed on June 11th which, if successful, would suspend Jatinder's deportation. For Jatinder this is a life and death situation; Community support carries an enormous weight at this critical juncture.
We strongly denounce the detention and scheduled deportation of Jatinder Singh, as well as the use of electronic tracking bracelets!
We are calling instead for status for all, and for a comprehensive, ongoing regularisation program for all migrants!
Join us for a rally in solidarity with Jatinder, and with all non-status migrants!
Status for all!
No to deportations!
No to detention!
No to electronic tracking bracelets!