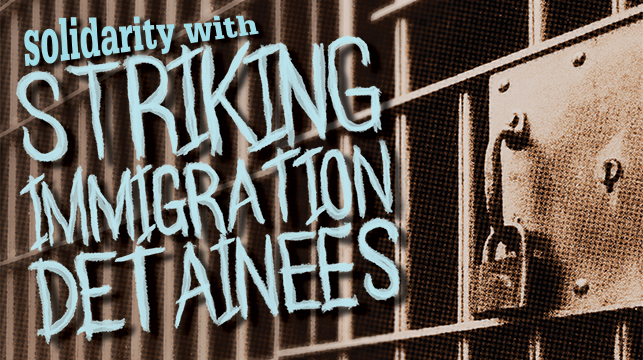 Support Striking Immigration Detainees! Soutenons les immigrants détenus en grève!
More info: 
http://endimmigrationdetention.wordpress.com
Joint statement by Books to Bars Hamilton, Dignidad Migrante, Fuerza/Puwersa, No One Is Illegal-Montreal / Personne n'est illégal, No One Is Illegal Toronto, No One Is Illegal Vancouver, Solidarity Across Borders / Solidarité sans frontières (Montréal)
Over a 180 immigration detainees in Lindsay, Ontario's Central East Correctional Centre (CECC) began protest actions on Tuesday, September 18th against conditions of their detention. The detainees were recently moved from other prisons in the Greater Toronto Area, about two hours away, and have lost touch with families and legal support as a result. Conditions at Lindsay are substantially worse for them then before. Some prisoners began a hunger strike on Wednesday which has now ended but other strike actions are continuing.Striking immigration detainees are asking supporters to call and write Superintendent Neil Neville (read more about him below) and immigration enforcement in support of their demands.
CALL: 705-328-6009
SIGN THE PETITION ON OUR WEBSITE: http://endimmigrationdetention.wordpress.com
The striking immigration detainees in Lindsay are demanding:
– Better access to medical care and social workers
– Cheaper phone calls and access to international calling cards (many have family overseas)
– Access to better food, like the food on the non-immigration ranges
– An end to constant lockdowns
– Keep the improved canteen program going
– Better access to legal aid and legal services
Additionally, detainees are demanding that the Canadian Border Services Agency (CBSA) grant specific requests to move individuals to facilities nearer to their families, legal resources, and social services.
Some of the prisoners are long-term detainees, people immigration enforcement cannot deport but will not release. Others have been designated as 'high security' based on prior criminal history but this can be as little as an arrest that has not led to conviction. Some people have been in jail for over 7 years because Canada unlike the US and UK has no limit on how long someone can be held prior to deportation.
Background

About Superintendent Neil Neville: Neville was in charge of Elgin-Middlesex Detention Centre in 2009, when two inmates died. He left EMDC in May 2011, and took on several roles within the provincial bureaucracy before taking over in Lindsay. Inquests held into the 2009 deaths painted a picture of an overcrowded, understaffed EMDC with inadequate medical care and supervision of inmates.
About Immigration Detention in Canada: Between 2004 and 2011, 82,000 people were locked up in immigration detention. At least another 25,000 have been imprisoned since 2011. In 2012, 289 of the detainees were children, many of them under the age of 10. There are three dedicated immigration detention centres in Canada: in Toronto, in Laval and in Vancouver. The Kingston centre, specially built for the security certificate detainees, known as "Guantanamo North", was quietly closed in 2011. The rest of the detainees, about 35% of the total are held in maximum security provincial prisons, some unable to leave their cells for 18 hours a day. $53, 775, 000 in public money is spent on immigration detention annually or $239 per day. Comparatively, a unit of social housing can be provided at less than $31/day. The total cost of immigration detention including surveillance and supervision of immigrants, particularly of security certificate detainees and those not in detention is much higher. Immigration detention centres are a $50million business, run in partnership with private companies like G4S, Garda and Corbel Management Corporation. In Toronto alone, G4S and Corbel were paid $19 million between 2004 and 2008. Garda has the contract for the Laval Immigration Holding Centre. More info: http://vimeo.com/55622758
Freedom to Move, Return, Stay: In the last ten years, the number of people without full status (refugee claimants, temporary workers, etc) has increased by 60% but permanent residency visas have stayed constant. Refugee acceptance rates are less then 25%. Too many migrants are denied full status, and are forced to live in the country without papers, services, justice or dignity. Migrants without full status live in daily fear of detention and deportation. Those arrested are locked up in cages in brutish conditions awaiting forced deportations. This system is broken. We insist: No One Is Illegal! End Immigration Detentions! Freedom for All Prisoners!