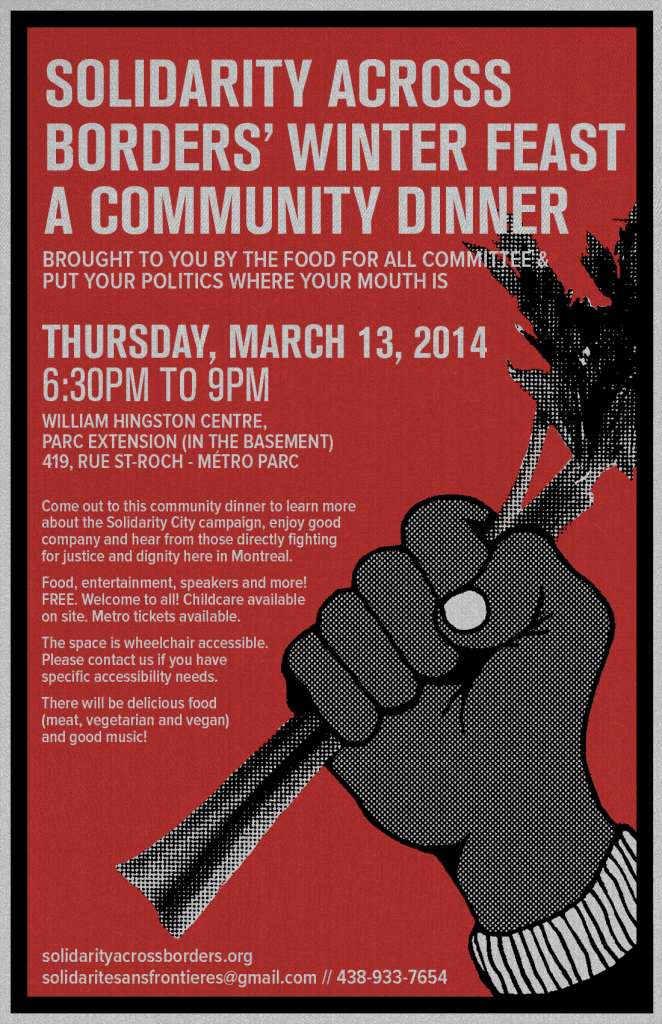 You're invited to…
Solidarity Across Borders' Winter Feast! A community dinner
* Presented by the Food for All committee and Put Your Politics Where Your Mouth Is, 2014 *
Thursday, March 13, 2014, 6:30 to 9pm
William Hingston Centre (Cafeteria in the basement)
Parc Extension , 419 rue St-Roch (métro Parc)
Food, entertainment, speakers and more!
FREE. Welcome to all! Childcare available on site. Metro tickets available.
The space is wheelchair accessible. Please don't hesitate to contact us if you have specific accessibility needs.
Come out to this community dinner to learn more about the Solidarity City campaign, enjoy good company and hear from those directly fighting for justice and dignity here in Montreal.
There will be delicious food (meat, vegetarian and vegan) and good music!
***
The Food for All committee of Solidarity Across Borders fights for healthy food for all, especially for those with precarious immigration status. We work with a variety of food organizations around the city to make food services accessible for migrants without status. We also provide direct food support rooted in relationships of solidarity and mutual aid to people living in Montreal who are struggling with the immigration system.
We are part of a larger campaign called Solidarity City that aims to strengthen our networks of community resistance to the violence of the immigration system. In building a Solidarity City we are demanding access without fear to all city services for residents of Montreal regardless of immigration status, and we are working to make border controls unenforceable in our communities.
This event is co-organized with Put Your Politics Where Your Mouth Is, an annual week of talks, teach- ins, and skill sharing around food justice on university campus' and beyond, organized by the People's Potato and Midnight Kitchen. This year workshops and events will focus specifically on the ways food politics intersect with race, racism and white supremacy.
We hope to see you there!
More info:
www.solidarityacrossborders.org, and food4allmontreal@gmail.com
solidaritesansfrontieres@gmail.com
438-933-7654