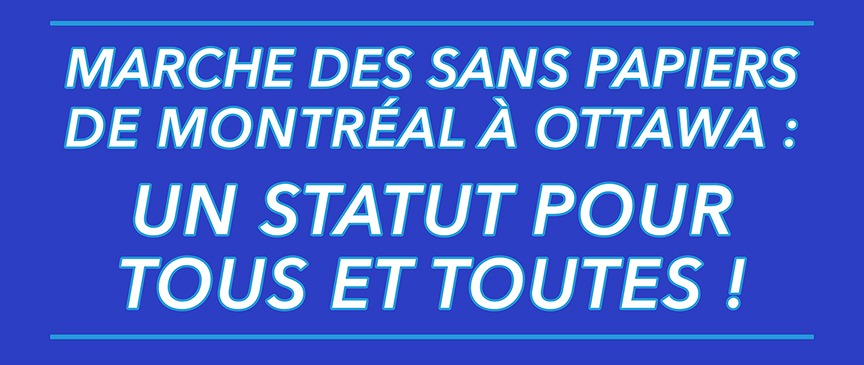 Media Advisory
Undocumented Migrants Announce Historic March On Ottawa: "Trudeau, we're tired of waiting, we're on our way!"
What: Outdoors Press Conference
When: Saturday, 27 March 2021 at 11am
Where: outside Federal Government Offices, Guy Favreau Complex, 200 René-Lévesque West, Montreal
Who:
Hady Anne, Solidarity Across Borders
Youssef Benzouine, Le Front d'action popular et réaménagement urbain (FRAPRU)
Dolores Chew, Fédération des femmes de Québec (FFQ)
Albert Lalonde, La Coalition étudiante pour un virage environnemental et social (Ceves)
Nazila Bettache, Caring for Social Justice
Rama Diallo, Confédération des syndicats nationaux (CSN)
Jessica Quijano, Defund the Police Coalition
At an outdoors press conference on Saturday, Solidarity Across Borders will announce ambitious plans, including a seven-day march from Montreal to Ottawa, to build support for an ongoing, comprehensive regularization programme for all migrants with a precarious status.
The COVID-19 pandemic has pushed migrants without permanent status into ever deeper precarity while simultaneously shining a public spotlight on the place they hold in Canadian society as both essential to the capitalist economy and disposable. The pan-Canadian Migrant Rights Network has taken the lead in mobilizing support across Quebec and Canada for status for all, a position echoed in recent months by Louise Arbour, the City of Montreal, and Amnistie internationale Canada francophone.
The migrant struggle for human dignity and equality finds allies in resurgent movements fighting for Black rights/against racism, Indigenous sovereignty/against colonialism, women's autonomy/against patriarchy, housing rights/against gentrification, labour rights/against capitalism and for a future/against environmental destruction. Spokespersons from some of these movements will also join the press conference on Saturday.
The press conference will respect all COVID-safety measures.
-30-
Source: Solidarity across Borders
Background: www.solidarityacrossborders.org