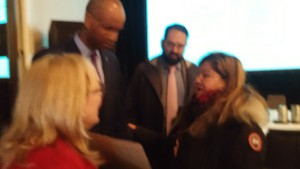 Montreal, 21 mars 2017 — Federal Minister of Immigration, Ahmed Hussen, was intercepted by three non-status women a few days before the International Day Against Racism as he entered Montreal's Sheraton Hotel to give a speech at an academic conference. The women, active members of the Collective of Non-status Women of Montreal, were there to deliver a message directly to Mr. Hussen about their own vulnerability to exploitation and abuse because of their precarious immigration status. Undocumented people form an oppressed layer of Canadian society, racially defined, who are denied all economic, political and social rights.
"My heart was beating very fast because I knew that if the conference organizers called security or the police it was all over for me," said Lorena, an undocumented woman in her 60s who works as a cleaner for less than minimum wage and could never have afforded the hefty entry fee for the conference. "If the police checked my name they would detain me at the Laval Immigration Detention Centre, and I would be deported."
A second woman, Ana, tried to hand him a letter but Minister Ahmed Hussen refused to take it. He signaled to his assistant, who took it from Ana. "When I explained that the letter came from the Non-Status Women's Collective, the Minister's assistant recognized the name," she said.
In its letter, the Collective of Non-Status Women of Montreal demand status for everyone without a regular immigration status in Canada. The letter was hand-delivered to Prime Minister Trudeau's riding office in November 2015, and sent to the previous Minister of Immigration John MacCallum.
"So far, Trudeau's government has not responded to our letter or publicly taken a position on regularizing the many hundreds of thousands of undocumented people inside Canada. In his speech, Mr Hussen didn't mention the issue at all, as though we just don't exist. The government keeps saying it welcomes refugees and is pro-immigrant, but we want to know: what about us?" said Guadalupe.
The Non Status Women's Collective of Montreal formed in the fall of 2015. Since then they have courageously waged a public campaign, demanding an end to the case by case approach and a comprehensive regularization program for all people living in Canada without status. In demanding regularization for all, they fight for the ability of all to live in dignity, respect, and with equal rights.