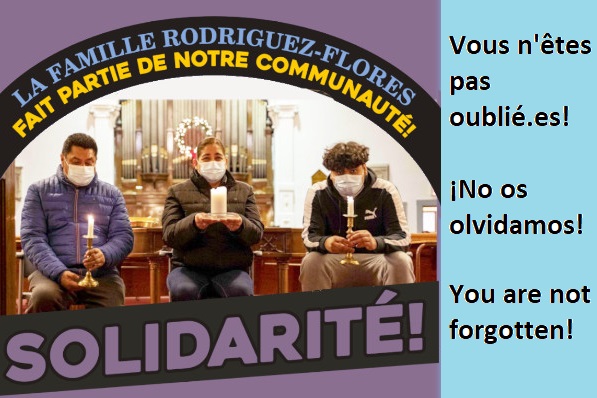 Event organized by the Sherbrooke collective Ensemble avec les personnes migrantes contre le racisme.
More than 5 months of waiting, fear, uncertainty and hope. 5 months of staying locked in Plymouth-Trinity United Church to avoid deportation to Mexico. 5 months of hoping to stay alive. 5 months to ensure that the entire Rodriguez-Flores family can stay in their Sherbrooke community.
The Sanctuary support team for the Rodriguez-Flores family needs you for the week of solidarity actions from April 18 to 23.
Schedule:
Monday 18 April at 10am: Press conference in the presence of the family's lawyer at Plymouth-Trinity United Church.
Tuesday 19 April at 6.30pm: Intervention at the City Council to show our support, rendezvous in front of the City Hall.
Wednesday, April 20 at 6pm: Testimony and exchanges with the family before a 1st blitz of emails and calls to
Office of the Federal Minister of Immigration.
Online:
https://us02web.zoom.us/j/82460571024
Friday 22 April at 10am: Testimony and exchanges with the family. Online, details to come.
Saturday 23 April at 3pm: Solidarity march- Departure from the Gare Market.
https://www.facebook.com/events/3481698632057028/
Link to the petition:
https://www.change.org/…/we-appeal-to-quebec-canada-to…
Link to the fundraising campaign: