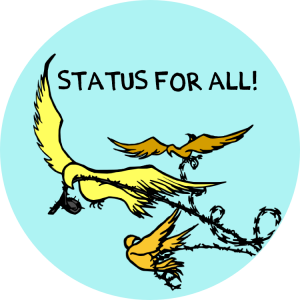 WHY WE ARE MARCHING
MAY 18, 2013
This is a demonstration in support of the struggles of migrants living in Montreal, Quebec and Canada. We are demanding STATUS FOR ALL, meaning all people living without citizenship or permanent residency can stay with full rights and dignity. We oppose deportations and detentions as well as the double punishment of migrants with criminal records.
There are tens of thousands of people who live without status in Montreal, and up to 1 million in all of Canada. In the past years, tens of thousands of people have been deported by the Canadian state. This past Thursday evening, six border agents seized a Mexican refugee and her 18-month infant daughter from their Montreal apartment because they were living in Canada without status for two years. In response to the injustices of Canada's immigration and border policies, we are building a SOLIDARITY CITY in Montreal.
We believe that everyone has the right to migrate, the right to resist forced displacement, and the right return to their homelands if they so choose.
As we march, we do so in recognition of Indigenous struggles for sovereignty and self-determination. We believe we cannot speak meaningfully about apartheid globally, and unjust migration policies, without first speaking about the realities of apartheid here in Canada.
Today, Saturday May 18, four contingents of protesters are marching to downtown Montreal from working class and popular neighborhoods all over the city: from the Southwest, we march from Verdun, Pointe-Saint-Charles, Saint-Henri & Little Burgundy; from the Northwest we march from Ville St- Laurent, Notre-Dame-de-Grâce & Côte-des-Neiges; from the Northeast we march from Ahuntsic, Villeray, Parc Extension, St-Michel, Rosemont-Petite-Patrie & Mile End; and from the East we march from Hochelaga and Centre-Sud.
Today's march is organized in support of four main demands:
STATUS FOR ALL! Status For All means that all residents of Canada will get the documentation they need so they can access basic services and the same rights as anyone else.
NO TO DEPORTATIONS! We stand in solidarity with those who struggle to resist their deportations and forced removals. We denounce the violence of deportations that breaks up families and uproots people from their communities.
NO TO DETENTIONS! We demand the immediate release of all detainees in immigration detention facilities, and organize for the closing of all detention centres.
NO TO DOUBLE PUNISHMENT! "Double punishment" is the term used to describe the unjust policy used against non-citizens who face deportation after being punished for a criminal conviction. Double punishment is the direct result of racial profiling.
We are also demonstrating to affirm a SOLIDARITY CITY in Montreal. A Solidarity City is the creation of a community that rejects a system that engenders poverty and precarity, not solely for immigrants and refugees, but also for other Montrealers confronting these same realities. We are opposing fear, isolation and division and we strike back with solidarity, organized mutual aid, and direct action.
Today's demonstration is co-organized by Dignidad Migrante, Mexicans United for Regularization, the Immigrant Workers' Center, No One Is Illegal-Montreal and Solidarity Across Borders.