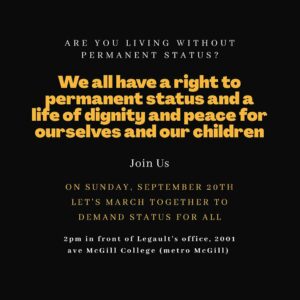 FOURTH PAN-CANADIAN DAY FOR STATUS FOR ALL
Are you living without permanent immigration status? We all have a right to permanent status, and a life of dignity and peace for ourselves and our children! Join us! Let's come together on Sunday, September 20th to demand Status For All!
Sunday, 20 September at 2pm
starting at offices of Prime Minister Legault, 2001 McGill College Avenue (métro McGill)
We're speaking to all those without permanent immigration status in Canada: we do not know how many years you have been here; how you have survived all the winds and tides you have encountered, how you have protected yourself and your families in spite of all the difficult conditions you've experienced here in Canada – especially with the COVID-19 pandemic, where you were left without access to full health care, work permits or emergency relief. We understand your disappointment and anger following Immigration Minister Marco Mendicino's announcement of his regularization program, which excluded you. Your reaction is legitimate! We all deserve recognition – not just for all our efforts made during these difficult times but as equal human beings! We believe that there must be a just solution: a regularization program that includes everyone without exception.
Over the past months, Solidarity Across Borders has organized numerous protests to demand status for all: our large march on July 4th at Émile Gamelin park; on July 26th, we gathered at 1010 Saint Antoine to break the fear; on August 8th, we went to Justin Trudeau's office to say that we are all essential; and on August 23rd, we held "casseroles" in different Montreal neighbourhoods (Cote des Neiges, Downtown, Parc Extension and Montreal North).
Many of us have been living in the shadows for years and it's time for us to live like everyone else. We are already active members of Canadian society; many of us work and are even forced to accept the most dangerous jobs in order to survive. Dignity is a right for every human being. We must take action to restore dignity to everyone; we must ensure everyone has a dignified status because they are human beings who should be able to live together with their children in peace.
We invite all of you to join us no matter what your status. A single goal brings us all together : status for all of us. Together we will get there. We are determined to go the distance and to win our struggle, with our voice united with yours we will succeed —united we are strong!