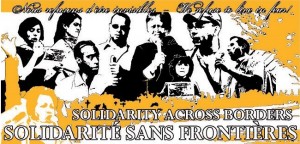 IMMIGRATION SUPPORT WORKSHOPS
"Breaking down the Canadian Immigration System"
&
"Doing Immigration Support Work"
(APRIL 25 & 30, 2013; please register in advance)LOCATION:
Quebec Public Interest Research Group (QPIRG) at Concordia
1500 de Maisonneuve Ouest, #204
(métro Guy-Concordia)
Wheelchair accessible. Free.
Workshop will be in both English & French, with whisper translation available.

Solidarity Across Borders presents a two-part workshop on doing immigration support work. The workshops are geared towards individuals interested in getting more actively involved in local movements for migrant justice. The two workshops below are to be attended consecutively, as a series. Space is limited, so please pre-register in advance (more info and details below).
Thursday, April 25, 6:30pm:
BREAKING DOWN THE CANADIAN IMMIGRATION SYSTEM
A presentation on how the Canadian immigration 
system works; topics include: a brief history of migrant justice organizing in Montreal (2001-2012); the immigration and refugee determination process; the bureaucracy and agencies of immigration control (CIC, CBSA, IRB, etc); detentions and deportations; sponsorships; humanitarian claims; the Quebec system; Canadian border control and immigration policies; and more. This section will include an overview of the major changes to the immigration and refugee determination process, especially in light of the "Refugee Exclusion Act" of 2012.Tuesday, April 30, 6:30pm:


DOING IMMIGRATION SUPPORT WORK

A presentation and discussion on doing immigration support work, using previous support efforts and campaigns in Montreal as a reference. Topics include: defining casework and support work; kinds of support; support roles; legal issues and procedures; support strategies; communications; building a campaign; money and fundraising; media; allies and resources; employment, education and health services; detention support; deportation support; and more. Individuals who have been actively involved in previous support efforts will be on-hand to share their experiences.

These workshops are intended as a starting point for folks interested in getting more involved in support work efforts in Montreal. They are not intended to be comprehensive, or cover every topic in detail.
-> Both workshops will take place at the Quebec Public Interest Research Group (QPIRG) at Concordia (1500 de Maisonneuve Ouest, suite #204). The space is wheelchair accessible; please indicate in advance if you need childcare and it will be provided; bring food and snacks to share if you can; don't hesitate to indicate other needs.-> PRE-REGISTER by e-mail (solidaritesansfrontieres@gmail.com) or phone (438-933-7654). When registering, please indicate the following:
– Your name and contact number/e-mail.
– Indicate (briefly) why you are interested in attending these workshops.
– If you are currently active in migrant justice work, please indicate that as well.
– Please indicate if you need childcare, or if you have other needs.
For more information:
solidaritesansfrontieres@gmail.com